Price cuts galore on mega-mansions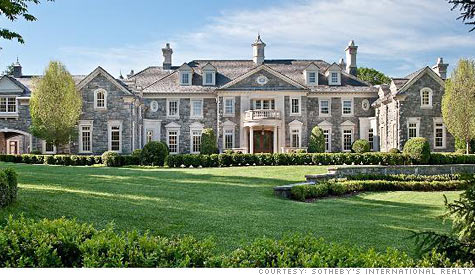 NEW YORK (CNNMoney.com) -- For deep-pocketed plutocrats purchasing trophy homes, times are good. There is a glut of mega-mansions on the market -- at deep discounts.
On Realtor.com alone there are currently 6,610 listings of houses with interiors larger than 10,000 square feet.
"Buyers are not used to having this amount of inventory," said Russ Filice, an agent with Sotheby's International Realty, which represents many ultra-high-end properties. "The options are greater than ever."
What's surprising is that these homes are starting to move again. "Maybe not quickly, but they're selling," Filice said.
The super-wealthy fled the mega-mansion market in the wake of the Lehman Brothers collapse in the fall of 2008. But with the stock market recovering and real estate markets stabilizing, they're ready to deal again. But only if the price is right.
"The super wealthy were watching and waiting," said Jonathan Miller, a New York-based appraiser, who follows real estate in Manhattan and the Hamptons. "It's always been my feeling that the high-end market comes in waves. I looked at the Hamptons in 2009 and you just weren't seeing trophy property sales. Now you are -- but not at the prices you saw during the boom."
A 48,000-square-foot home in Bel Air, Calif., was recently reduced by $13 million to $72 million. A 16,000-square-foot nouveau Mediterranean in Las Vegas went to $11.9 million from $14 million. And a 15,000-square-foot Dallas domain is down to $15 million from $17.5 million after more than two years on the market.
Don't like those prices? There are plenty more to choose from. So many homes started during the boom, when owners were flush, were not completed until the bust, when owners' fortunes had changed. And they're ready to unload them.
"A number of people back in the 2003, 2004 and 2005 boom built very large homes," said Philip White, president of Sotheby's International Realty. "Then, with the adjustment in the economy, it proved to be too much house for some of them."
In Alpine, N.J., developer Richard Kurtz broke ground in October 2007 on a home for himself. He calls it Stone Mansion, a 30,000-square-foot spread with 12 bedrooms, 15 full baths, a screening room, wine grotto and indoor basketball court. The house was finished just a couple of months ago.
Between then and now, Kurtz decided to buy a house in Florida and sell the Stone Mansion. Asking price: $68 million.
A house near Orlando has been under construction for more than three years and is not done yet. Business has been slow for owner David Siegel, who also owns Westgate Resorts, so he is putting his house on the market.
The 67,000-square-foot house sits on 10 acres and is called Versailles because it incorporates many of the design features of the French palace. Siegel hopes to get $100 million if the buyer wants the 67,000-square-foot property finished.
Or he'll take $75 million as is.