Credit score below 500? No FHA home loan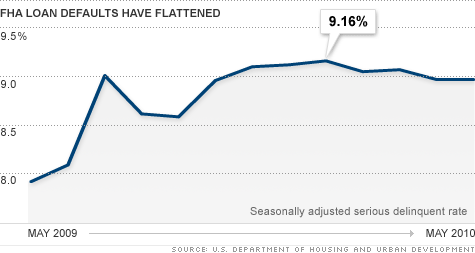 NEW YORK (CNNMoney.com) -- The once wide-open doorway to homeownership closed a teensy bit more this week when a key government agency announced a proposal to no longer allow mortgages for borrowers with very low credit scores.
The Department of Housing and Urban Development said that it intends to require borrowers to have scores of at least 500 to qualify for FHA-insured loans. The agency has not required a minimum score before.
The practical impact of this move will be extremely limited; during the second quarter of 2010, no FHA-insured loans were issued to borrowers with sub-500 scores. And, in fact, less than 1% of borrowers were below 580; most loans went to borrowers with scores above 620.
"It really is just conforming FHA standards to what FHA lenders have already been doing," said Michael Fratantoni, vice president of research and economics for the Mortgage Bankers Association.
The initiative is part of an ongoing effort to reduce default risk to the FHA loan portfolio and to boost the reserves that back those loans, according to HUD Commissioner David Stevens.
"These are the latest in a series of changes to allow the FHA to manage its risk better while continuing to support the nation's housing recovery," he said. "By protecting FHA's capital reserves, we can continue providing affordable, responsible mortgage products and will remain the nation's largest source of home purchase financing for underserved communities."
HUD has been expressing increasing concern over default risk in the wake of the housing bust. The percentage of delinquent FHA loans has trended up, as have rates for virtually all mortgage loans.
During May, 8.97% of all FHA loans were seriously delinquent (seasonably adjusted). That was up from 7.93% during May 2009. But defaults have turned downward since January, when they peaked at 9.16%.
The defaults have drained FHA reserve, which is funded by insurance payments, to below the 2% minimum mandated by Congress. Taxpayer money could be in jeopardy if the insurance funds are depleted any further.
The FHA had earlier proposed steps to reduce delinquencies and so cut that risk. One was to raise the minimum downpayment to 10% for borrowers with credit scores below 580.
Another was to reduce allowable seller concessions to no more than 3% of the sale price. That would force buyers to make more of a financial commitment to their home. Given more "skin in the game," they are less likely to default.
These policies are all still in the proposal stage. Before going into effect, the department is soliciting public comment on the matters for 30 days. Then, it will evaluate the comments before implementing any changes.
The FHA has taken on increasing importance since the subprime mortgage crisis hit. It not only has continued its primary mission, providing mortgage financing for underserved constituencies, but is also issuing low down-payment loans for other Americans who would have had access to private lending in the past.
Congress also raised the maximum people could borrow so that home buyers in high-housing-cost areas could qualfy for FHA loans.
All this has combined to raise FHA market share to about 25% of all loans being issued right, up from just a couple of percentage points a few years ago. The FHA, along with the other government-backed mortgage giants, Fannie Mae and Freddie Mac, now account for nearly all the mortgage lending activity in the nation today.