Apple offers free cases and full iPhone 4 refunds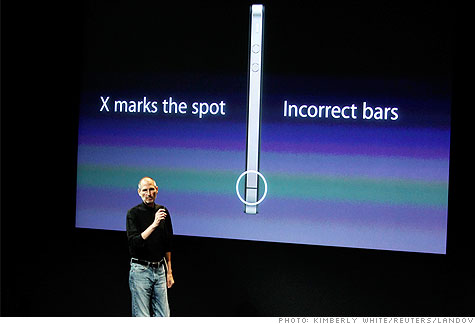 NEW YORK (CNNMoney.com) -- At its highly anticipated press conference, Apple said Friday that iPhone 4 owners would get a free case to prevent the "death grip" that causes the smart phone's signal to drop dramatically when held a certain way.
Customers who already bought a case from Apple will receive a refund for the purchase, Apple CEO Steve Jobs said at the event at Apple's Cupertino, Calif., headquarters. Jobs said about 67,000, or 20%, of iPhone 4 customers have already bought a case.
For future iPhone 4 customers, the free case offer will extend until September 30, at which point Jobs suggested that another fix may become available. Customers can apply on Apple's website for a free case beginning next week.
Users who are unhappy with the iPhone 4 will also be able to return the phone for a full refund for 30 days after purchase, without incurring the usual restocking fee. Jobs said AT&T (T, Fortune 500) will let customers out of their two-year contracts penalty-free.
A snippy Jobs called the reaction to the problem "overblown" but said he and Apple's employees have been working on the issue non-stop for the 22 days that the iPhone 4 has been on sale.
"We are not perfect, and we are working our asses off," he said. "It's not like Apple has had its head in the sand on this."
In the meantime, the issue doesn't appear to have hurt iPhone 4 sales: Jobs said Apple has sold over 3 million iPhone 4s since they went on sale in mid-June. Only 1.7% of those devices, or just over 50,000, have been returned, compared with a 6% return rate for the iPhone 3GS during the same time period.
The problem that has caused Apple so much headache is that bridging the gap between the iPhone 4's two antennas (which appears on the bottom left side of the phone) with skin or another electrically conductive material has the effect of reducing the phone's signal strength dramatically. The effect was so severe that Consumer Reports this week refused to recommend the phone until Apple issues a free fix.
Though the problem affects a minority of iPhone 4 users -- Jobs said just over a half-percent of buyers reported problems to Apple -- the complaints about Apple's device have spread like wildfire in the media and over the Internet.
But Jobs said the problem is not unique to the iPhone. He showed YouTube clip after YouTube clip of various smart phones that experience the same issue.
"It's a challenge for the whole industry," Jobs said. "Phones aren't perfect."
Even as Jobs said that signal-reduction issues affect the whole smart phone industry, he denied that he was made aware of the iPhone 4's particular "death grip" potential by Apple's engineering staff, as Bloomberg and the Wall Street Journal have reported. He dismissed it as "a total crock."
"We don't know everything ... but we figure it out pretty fast," he said.
Before the press conference, many wondered whether the perpetually unapologetic Jobs would say he is sorry for the incident. Apple's leader did offer apologies to customers that were experiencing problems, and stressed repeatedly that "we love our users so much."
Jobs even gave a half-admission of guilt, though he quickly turned it around.
"I'm not saying we're not at fault," Jobs said. "We didn't understand that people don't know that smartphones have weaknesses."
But investors got no kowtow, despite Apple's stock falling 7% since the iPhone 4 went on sale.
"As far as investors go, we want investors who are in it for the long haul," said Jobs. "It's just like having kids. Things happen, and you roll with it."
Prior to its announcement on Friday, Apple had not acknowledged any hardware issue with the iPhone 4. After reports of reception problems poured in, Apple issued an open letter on July 2, saying the cause of the dramatic drop in bars users sometimes see is a software glitch dating all the way back to the original iPhone. For almost three years now, the iPhone has been occasionally displaying two more signal bars than it should.
On Thursday, Apple (AAPL, Fortune 500) released a software patch that users can install to fix the bug, which makes the "death grip" effect appear less severe.
Other problems have followed the iPhone 4 as well, including reports of proximity sensor malfunctions and manufacturing difficulties that have postponed sales of the white iPhone. Jobs said the phone's next software update will address the proximity sensor issue, which can lead to accidentally dropped calls.

Fortune senior writer Jon Fortt contributed to this report.