BP stock slips 5% on concerns about leak
NEW YORK (CNNMoney.com) -- BP's stock price slipped 5% on Monday after a U.S. government official sparked concerns about oil seeping out of the capped well into the Gulf of Mexico.
U.S. listed shares of BP (BP) fell $1.95 to $35.15 on the New York Stock Exchange.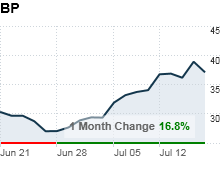 The leak was detected Sunday as the energy company conducted a "well integrity test" following last week's installation of a new custom-made cap. BP (BP) closed the valves on the cap Thursday and shares jumped more than 7%.
At that point, BP said oil was no longer gushing.
Thad Allen, the federal government's oil spill response director, said Monday that the test will continue another day after a federal science team and BP representatives discussed the seep and other issues during a conference call Sunday night.
"During the conversation, the federal science team got the answers they were seeking and the commitment from BP to meet their monitoring and notification obligations," Allen said in a statement.
Pressure testing results in the well have been lower than expected, he said, which means oil could be seeping out from below.
But BP said Monday that pressure "continues to rise slowly."
Meanwhile, the British oil giant said Monday it has already spent $3.95 billion in containment, relief-well drilling, grants, claims and federal costs for the spill.