Obama's debt panel: Hints of an endgame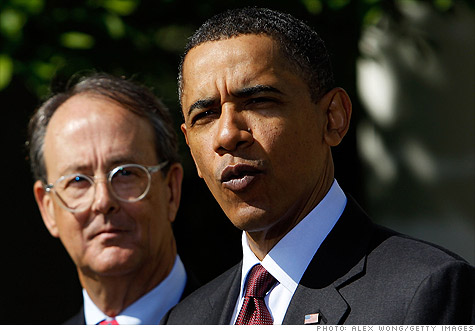 NEW YORK (CNNMoney.com) -- How to get the federal budget back on the right track? Here are just two ideas from the co-chair of the president's bipartisan debt commission: Rein in tax breaks. Set hard caps on federal revenue and spending.
Erskine Bowles, co-chairman of the panel and White House chief of staff under former President Clinton, has twice in recent weeks mused in public about what he'd like to see in a debt-reduction plan.
The commission has much work left, and Bowles only gets one vote. But if the commission can't agree on its own set of official recommendations, he is likely to play an influential role in shaping the advice given to President Obama.
Obama, for his part, has said he will deliver serious deficit-reduction proposals next year after reviewing the commission's report, which is due Dec. 1.
If Bowles has his druthers, no plan would take effect before 2012. "The economy is too fragile," he said at the commission's last public meeting and reiterated again at a jobs summit last week at the U.S. Chamber of Commerce.
But he also suggested that certain conditions may need to be met first, to ensure the economy is strong enough to withstand the move to serious fiscal restraint.
In addition, Bowles said he hopes several principles inform any plan proposed. Top among them: protect the vulnerable -- the disadvantaged, the very elderly and the disabled.
Beyond that, Bowles has suggested that a plan might:
Establish revenue and spending caps: "I don't want to see revenue as a percentage of GDP be much higher than 21%," Bowles said. "At the same time we have to work to make the tough choices to bring spending down to the same level, to about 21% of GDP. ... None of this is going to be easy."
Over the past 40 years, annual federal spending has averaged 20.7% of GDP, but neared 25% last year as the government fought the financial and economic crises. But even after the economy recovers, it is expected to remain near that level over the next decade.
Meanwhile, annual federal tax revenue has averaged 18.3% of GDP, but went as high as 20.6% in 2000.
Lean more on spending cuts: The commission will have to decide how much debt reduction will come from spending cuts and how much from tax increases.
Bowles said he found the split in Britain's debt reduction plan "interesting." In that plan, roughly 75% of the reductions will come from spending and roughly 25% from tax hikes.
Reform mandatory spending: Mandatory spending covers, among other things, entitlement programs such as Medicare, Medicaid and Social Security. It is not subject to annual review, but grows automatically.
"We are going to have to reform the entitlements. And it's not just the entitlements, it's all the mandatory spending ... that's a big amount of what we're looking at," Bowles said.
Specifically, he wants to make Social Security solvent for 75 years. By the late 2030s the program will only be able to pay out roughly three-quarters of promised benefits.
And "we have to find more cost reduction in health care or it will just consume the budget," Bowles said.
Left unchecked, spending on the major health care entitlement programs and Social Security will reach 16% of GDP by 2035. That's not far below the average spent on all federal programs and activities over the past 40 years, according to CBO Director Douglas Elmendorf.
Assess cost of being 'world's policeman': Bowles supports efforts that keep the country secure.
"But I personally am not crazy about being the world's policeman nor do I think we can afford to be," Bowles said.
Curbing defense spending on efforts on foreign soil is one that has been gaining currency.
Curb tax breaks: Every year tax breaks reduce the potential federal revenue intake by roughly $1 trillion. Tax breaks are not accounted for in the budget because they're not considered spending. Many experts think they should be. And some say the money allocated for them should be capped.
Bowles, who favors eliminating or "sharply" curtailing some tax breaks, said he believes they are "spending by a different name -- and spending that in general is less effective than it otherwise might be."
Reform the tax code: Bowles favors what tax experts and economists have been calling for loudly.
"The greatest contribution we can make is to work to simplify it, to broaden the base and to make it so America is more competitive in a knowledge-based economy," he told the commission.
He said he'd like to see lower tax rates on individuals' income and investments, as well as lower rates on corporations. Many tax experts have recommended lowering the corporate rate in conjunction with a reduction in various loopholes.
At the same time Bowles would like to see the establishment of a consumption tax.
He didn't say what kind of consumption tax he might favor. Some experts say the depth of the impending budget shortfalls and the inadequacies of the income tax system may make a value-added tax -- a type of consumption tax -- necessary. But it's a deeply unpopular idea in many quarters and has already drawn strong blowback.