Obama to Senate: Pass the unemployment bill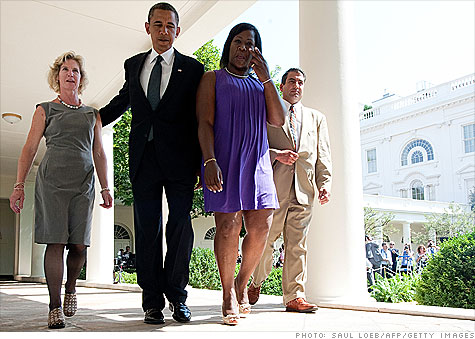 NEW YORK (CNNMoney.com) -- With millions of jobless living without a government lifeline, President Obama is urging the Senate to extend jobless benefits when it votes Tuesday.
"It's time to stop holding workers laid off in this recession hostage to politics," Obama said in a Monday morning speech held in the White House Rose Garden.
More than 2.5 million Americans are estimated to have exhausted their jobless benefits since the deadline expired in June, according to the U.S. Labor Department.
The president focused his frustration on Republicans, calling them out for supporting unemployment extensions under GOP presidents while refusing to help middle-class families now.
Obama wants the Senate to pass a bill that would extend the deadline to file for unemployment benefits through the end of November. The bill would cost $34 billion in additional deficit spending, according to the Congressional Budget Office.
The Senate has failed to pass an extension of the unemployment benefits on three separate occasions. Obama said the efforts were blocked by some Republicans harboring a "misguided belief" that people will stop looking for work if they receive assistance.
Republicans say they support extending jobless benefits, but they want it to paid for without increasing the deficit. They have suggested using unspent stimulus funds to cover the cost.
But Obama browbeat the GOP's appeal for fiscal frugalness, saying that it comes "after years of championing policies that turned a surplus into a massive deficit."
Immediately after the conclusion of the president's speech, House Republican Leader John Boehner, R-Ohio, released this statement:
"The president knows that Republicans support extending unemployment insurance, and doing it in a fiscally responsible way by cutting spending elsewhere in the $3 trillion federal budget. At a time of record debt and deficits made worse by Washington Democrats' massive spending spree, that's the right thing to do and the right way to do it."
The U.S. unemployment rate stood at 9.5% as of June. The jobless rate has averaged 9.7% over the first half of the year, and many economists expect it to remain elevated into 2011.
-- CNN reporter Dan Lothian contributed to this report.