Treasurys gain on weak earnings, housing data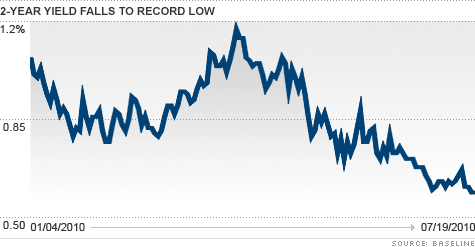 NEW YORK (CNNMoney.com) -- Treasury prices gained ground Tuesday, with the 2-year yield falling to a record low and the 10-year yield slipping to the lowest in nearly three weeks, as disappointing earnings and housing data boosted demand for the safety of U.S. government debt.
What prices are doing: The benchmark 10-year rose 3/32 to 104-21/32 and its yield fell to 2.95% from 2.97% late Monday. Bond prices and yields move in opposite directions.
Earlier in the day, the 10-year note's yield fell to 2.89%, the lowest since July 1.
The 2-year note edged up 1/32 to 100-3/32 and its yield was 0.59%. The yield had slipped below to an all-time low of 0.57% earlier in the day.
The 30-year bond was flat at 106-27/32 and its yield was 3.98%, while the 5-year note gained 2/32 to 100-28/32 with a yield of 1.69%.
What's moving the market: The safe-haven appeal of Treasurys rose Tuesday as a worse-than-expected government housing report and earnings from Goldman Sachs (GS, Fortune 500) renewed investor concerns about the economy.
Because Treasurys are backed by the U.S. government, they are viewed as low-risk investments and are attractive during times of economic uncertainty.
The Commerce Department reported that new home construction continued to retreat in June, but the outlook for future activity brightened.
Goldman Sachs said that its second-quarter profit fell sharply to $613 million, down 82% from a year earlier due to its settlement with the Securities and Exchange Commission.
What analysts are saying: "We have a flight to safety again, with the skittishness of the stock market attracting money into safe haven debt,"said Peter Cardillo, chief market strategist at Avalon Partners. "It's all about earnings and the negative report on housing starts."
As long as sour economic data continues to pour in, Cardillo said investors will continue to look to Treasurys.
"The market is overbought, but the for now, the fear factor is difficult to shake," he said.