BP to sell $7 billion in assets to Apache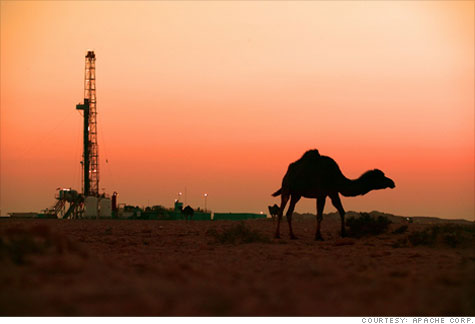 NEW YORK (CNNMoney.com) -- BP said Tuesday it is selling $7 billion worth of oil and gas assets to oil firm Apache, in the wake of the Gulf oil spill that's draining its balance sheet.
The properties being sold are oil and gas fields and processing plants in Texas and southeast New Mexico, Western Canada, and production and exploration rights in Egypt.
"The board has considered BP's options for generating the cash necessary to meet the obligations likely to arise from the Gulf of Mexico oil spill," BP Chairman Carl-Henric Svanberg said in a statement.
BP (BP) has pledged up $20 billion in compensation funds to the U.S. government as a result of its role in the Gulf oil spill. The company's stock price has been halved since the April 20 disaster, and speculation has been swirling for weeks that it could be taken over by a rival oil company.
BP has suspended its first, second and third quarter dividends, and has reportedly been in talks with sovereign wealth funds about cash infusions, as it seeks to raise money and avoid a takeover.
The asset sales to Apache were part of a previously announced plan to raise $10 billion.
Apache (APA, Fortune 500) is a company that specializes in increasing production from older fields that the major firms no longer find attractive.
"There are opportunities to divest assets which are strategically more valuable to other parties than they are to BP," said Svanberg.
BP is not selling any of its oil sands, Mackenzie Delta or Arctic exploration rights in Canada or any of its Alaska operations.