D.C.'s hottest job: Consumer agency chief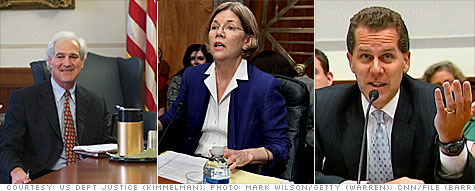 WASHINGTON (CNNMoney.com) -- Wall Street reform isn't quite the law of the land, but already top Democrats are battling over who President Obama should name to run the signature piece of the measure: the consumer protection agency.
For more than a year, the top pick has been assumed to be Elizabeth Warren, the Harvard University law professor who came up with a lot of the original ideas behind the agency.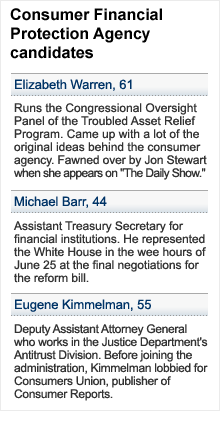 "Elizabeth Warren is a great, great champion for consumers, the middle class families across this country. . . And what has been done here in many ways reflects something that she's been advocating for years and years and years," said White House Senior Advisor David Axelrod last Friday, confirming Warren as one of a few candidates for the job.
Over the last two years, Warren has been a loud critic of the financial industry and the big banks, blasting what she calls their "tricks and traps" in obscuring the details of financial products.
As a result, Warren has a few detractors, particularly among Senate Republicans who could rally enough opposition to filibuster her nomination.
Senate Banking Committee chairman Sen. Christopher Dodd, D-Conn., summed up the problem with Warren's nomination Monday during an interview on National Public Radio when he suggested it could be tough to muster 60 votes to confirm her.
"Elizabeth could be a terrific nominee," Dodd said. "The question is, 'Is she confirmable?' And there's a serious question about that."
There's also some talk of friction with Treasury Secretary Timothy Geithner, although Treasury spokesmen have denied friction. She's also been a thorn in the side of his department in her role running a congressionally appointed watchdog panel on the 2008 federal bailout. Many of the panel's reports find problems with Treasury's management of the bailout.
Whoever gets the job will have enormous power shaping the future path of that agency and what it will regulate. That's why Republicans who say they'd like to see a more "balanced" candidate are warning against "naming an activist to this position," said Sen. Bob Corker, R-Tenn.
"This is someone who fundamentally objects to the way our financial markets are organized," said former Republican Senate Banking staffer Mark Calabria of the Cato Institute.
Two other top candidates also have consumer advocate credentials: Michael Barr, an assistant Treasury secretary for financial institutions, and Eugene Kimmelman, a deputy assistant attorney general in the Justice Department's antitrust division.
But many on the left, ranging from Sen. Bernard Sanders, D-Vt., to AFL-CIO President Richard Trumka, are pushing loudly for Warren to get the job.
"Professor Warren's appointment would make clear that under President Obama's leadership, there truly will be accountability for Wall Street and fair treatment for the American public in the financial marketplace," Trumka said in a statement.
One controversial possibility: The White House could consider Warren for a recess appointment during the August congressional break. That would give her the job without Senate confirmation until late 2011, according to Jaret Seiberg, an analyst at Concept Capital's Washington Research Group.
Warren declined to talk about the topic in an interview last week.
The new Consumer Financial Protection Bureau will be housed and largely paid for by the Federal Reserve, but will act of its own accord. President Obama is expected to act quickly on the appointment once he signs the bill into law Wednesday.