Booming Mac sales drive Apple's best-ever quarter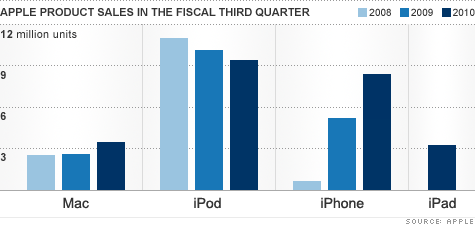 NEW YORK (CNNMoney.com) -- Record Macintosh and lighting-fast iPad sales made Apple's latest quarter its best ever, the company said Tuesday.
Sales for the Cupertino, Calif.-based company rose to a record $15.7 billion, 61% higher than Apple's sales in this quarter last year. Net income rose to $3.25 billion, up 78% from a year ago.
Apple sold 3.27 million iPads, which hit the market on April 3, and it sold 3.47 million Macintosh computers -- more than it has ever sold before in a three-month stretch.
"We've launched our revolutionary new iPad and users are loving it, and we have several more extraordinary products in the pipeline for this year," Apple CEO Steve Jobs said in a prepared statement.
Just three months of iPad sales brought in nearly $2.2 billion, Apple said. That means Apple is already drawing more revenue from its brand-new tablet it is from its entire iPod line. Sales also outpaced those of Apple's desktop Macs, a 26-year-old product line.
The company also sold 8.4 million iPhones, which includes 1.7 million iPhone 4s in the phone's first seven days of availability. That's a 61% increase from this time last year, but a drop from Apple's iPhone sales in the last two quarters. Many Wall Street analysts had forecast iPhone sales of 10 million to 11 million.
It's not that demand for iPhones has fallen -- the problem is that inventory is scarce. The white version of the iPhone 4 still hasn't hit the market, thanks to manufacturing delays.
"We're making products as fast as we can," Tim Cook, Apple's chief operating officer, said on a conference call with analysts. "In the scheme of things, it's a good problem to have. We're working hard to meet demand, [but] I can't predict when that will occur."
Cook said there was no noticeable decrease in iPhone demand after the "Antennagate" issue, in which some iPhone 4 users reported signal issues.
"Let me be very clear on this: We are selling every unit we can make," he said. "My phone is ringing off the hook with people that want more supply."
On the flip side, demand for the iPod is waning a bit. IPod sales dropped 8% from last year, to 9.41 million units.
But the sting of swooning iPod sales didn't hurt Apple at all: Its iPod revenue actually increased, thanks to higher sales of the more-expensive iPod Touch. The iPod is still by far the leader among MP3 players, maintaining a 70% market share.
Peter Oppenheimer, Apple's chief financial officer, said that the company anticipates earnings of about $3.44 per share in the current quarter on revenue of around $18 billion.
That forecast excludes $175 million in revenue that Apple said it will defer because of its decision to give free cases to all iPhone 4 users through Sept. 30. Apple is setting that money aside to cover the cost of the cases.
Still, Apple's guidance is notoriously conservative. The company predicted last quarter's revenue would be about $13.2 billion, a number it easily blew past.
"Apple has become a $60 billion steamroller," said Barry Jaruzelski, analyst at Booz & Co, referring to Apple's project annual sales for this year. "The only surprise would be if it there wasn't a healthy exceeding of expectations."
Shares of Apple (AAPL, Fortune 500) rose 2% after hours. Apple's stock is up 20% this year, but down 7% since the iPhone 4 went on sale in late June.