Morgan Stanley shares soar on earnings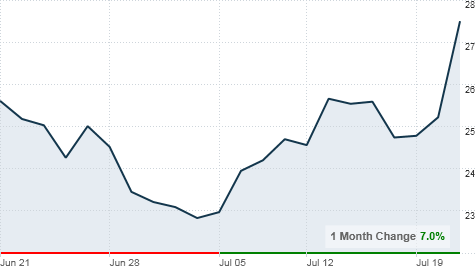 NEW YORK (CNNMoney.com) -- Morgan Stanley rebounded from a year-earlier loss in the second quarter, reporting a profit of $1.4 billion, even as recent market tremors upended the results of close rivals.
Performance improved across nearly every part of the firm's business. Losses within its asset management division narrowed from a year earlier, while its Smith Barney operations, which it acquired from rival Citigroup (C, Fortune 500) a little more than a year ago, also reported stronger revenue.
Perhaps the biggest driver of the company's second-quarter numbers was a jump in the firm's trading revenue, which nearly doubled from the prior-year quarter.
The results represent a significant victory for the firm. Morgan Stanley has reportedly been bulking up the trading division this year, adding several hundred more employees.
At the same time, other major Wall Street firms' results have come under pressure this quarter as sovereign debt fears in Europe and wild swings in the stock market prompted investors to stay on the sidelines.
Goldman Sachs (GS, Fortune 500), for example, reported an 82% decline in earnings Tuesday following a significant slowdown in its trading business. Bank of America (BAC, Fortune 500) also cited slower activity when it reported its results last Friday.
Investors cheered Morgan Stanley's (MS, Fortune 500) latest results, sending shares of the company nearly 9% in afternoon trading on the news.
Morgan Stanley CEO James Gorman also praised the efforts of his employees in the latest quarter, but cautioned during a conference call with investors that markets could remain volatile amid choppy company earnings.
"We still have a great deal of work to do across our global franchise and anticipate that the difficult market environment may continue in the months ahead," he said in an earlier statement. Gorman succeeded current chairman John Mack as CEO at the start of the year.
Like many of its peers, the company also reported a charge related to the British government's decision to tax bankers' bonuses this quarter. Morgan Stanley said the assessment on its U.K.-based employees cost the company $361 million.
Overall, the New York City-based firm earned 80 cents a share from continuing operations. Including earnings from discontinued operations, Morgan Stanley posted a profit of $1.6 billion, or $1.09 a share, during the quarter.
Analysts were expecting the company to report a profit of $852 million, or 46 cents a share, according to Thomson Reuters.
The latest numbers also marked a reversal from the nearly $1.3 billion loss it endured in the year-earlier quarter. Those results however, were largely impacted by the bank's decision to repay money it received under the government's Troubled Asset Relief Program, or TARP.
Morgan Stanley's results came just as financial regulatory reform is poised to become law. President Obama signed the Dodd-Frank Wall Street reform bill Wednesday.
One key provision of the proposed legislation would limit just how much banks can invest in private equity and hedge funds. Otherwise known as the "Volcker rule," it has already prompted serious questions about the fate of some of these businesses.
Morgan Stanley has also reportedly been weighing its options for its ownership stake in several hedge funds, including FrontPoint.
Executives at the company also acknowledged Wednesday that the derivatives component of the new bill, which would require financial institutions to place these complex investment products onto clearinghouses and exchanges, could also pose a hurdle.
But precise rules are many months away, according to estimates, as regulators study just how to put the new law into effect. Banks and other financial firms are expected to have several years after that to comply with the changes.
Morgan Stanley leadership, as a result, was reluctant to offer any indication Wednesday of what they might do as a result of the new rules.
"It is the early days," said Ruth Porat, the company's chief financial officer. "We are being deliberative in our approach."