U.S. debt: When is it safe to start cutting?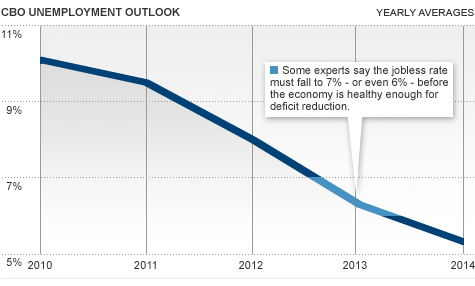 NEW YORK (CNNMoney.com) -- It's a refrain for those who think the government should do more to help the economy: The recovery is still fragile, so policymakers should wait before reining in U.S. debt.
Okay, but how strong does the economy have to be exactly? And when will it get there?
Erskine Bowles, co-chairman of President Obama's debt commission, tried to get some clarity recently.
"Where I'm having difficulty is trying to figure out the 'when' and what triggers the move to deficit reduction, because I'd like to make a real solid recommendation," he said at a public forum with 75 advocacy groups, think tanks and citizens.
Timing it right is no small matter.
Cut back too soon, the pro-stimulus economists say, and the economy could end up in far worse shape, making U.S. debt problems worse.
Wait too long, deficit hawks caution, and there may be hell to pay in the markets, which also would make U.S. debt problems worse.
Unemployment as a guide: Some say the unemployment rate will be a key indicator for policymakers when assessing whether it's safe to pivot to earnest fiscal restraint.
David Walker, former U.S. comptroller general and president of Peter G. Peterson Foundation, suggested 7%. William Gale, a senior fellow at the Brookings Institution, said he'd choose 6%.
Currently the unemployment rate is 9.5%. The Congressional Budget Office estimates the average annual rate will fall to 8% by 2012 and to 6.3% by 2013.
James Horney, director of federal fiscal policy at the liberal Center on Budget and Policy Priorities, believes the unemployment rate should be considered in conjunction with other factors, such as the outlook for growth.
"It would make sense to take steps now [to plan for deficit reduction] that would be implemented in a few years," Horney said. But when that time comes, he said, policymakers should not implement deficit reduction unless the economy is as strong as hoped. Or, he said, they should counterbalance the fiscal restraint with stimulus.
Gale acknowledged that the unemployment rate "is a rough guide, not a set-in-stone number, and that policy makers will need to evaluate economic performance along several dimensions."
It's rough in part because the so-called "full-employment unemployment rate" is higher than it used to be. That rate indicates what the base level of unemployment is when the economy can provide a job for everyone who wants one at the prevailing wage. The rate used to be in the neighborhood of 4.75%. Now the Federal Reserve's view for long-term unemployment after 2013 is as high as 5.3%.
Wait a few years: Senate Budget Chairman Kent Conrad, a member of the president's debt commission and a card-carrying deficit hawk, thinks the commission shouldn't recommend earnest fiscal restraint in the short-run.
"It would be precisely the wrong medicine when the economy remains so weak," Conrad said at the commission's public forum last month. "I would go to 2013, and maybe even 2014. But then we've got to pivot and put in place structural changes that will prevent the explosion of debt that really does present an enormous threat to the long-term economic security of the country."
Get right to it: Then there's the polar opposite position: Don't hold off on fiscal restraint. Start by ending the fiscal stimulus. That's what conservative economist Brian Riedl of The Heritage Foundation argues.
He reasoned that every dollar the government spends to stimulate the economy is a dollar taken out of the economy because it has to be taxed or borrowed.
Split the difference: Former CBO Director Alice Rivlin, who sits on the president's fiscal commission and also co-chairs a bipartisan debt-reduction task force, draws the line down the middle.
She recommends that a plan be put in place in the near-term before the economy recovers. But the trick is that the actual measures wouldn't be implemented anywhere from four to ten years from now.
"You're making progress on reducing the future debt and you're not hurting the near-term recovery. In fact, it could help it," she said. "We don't need to wait until we see the economy actually recovering."
Of course, that still doesn't offer Bowles what he was asking for: Specific economic sign-posts that could assure policymakers it will be safe to let scheduled fiscal restraint measures take effect.
For that, he may have to rely on the old adage about pornography: Policymakers will just know a "strong-enough" economy when they see it. And that's when they'll know it's okay to pivot.