The United States of...China?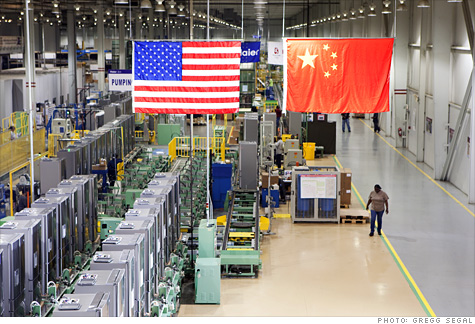 FORTUNE -- China's great outward march of investing into the United States is turning into a mad dash. Chinese investments into the U.S. rose 360% in the first half of this year compared to last year, according to Chinese government figures released Tuesday.
But not everyone -- namely U.S. steelmakers who are trying to block Chinese investments in the name of "national security" concerns -- is being so welcoming, holding up at least one major deal announced in May.
The Ministry of Commerce in Beijing has not yet released actual figures except to say that the total of its global overseas investments had reached $55.2 billion by the end of June, compared to $43.3 billion for the entirety of 2009. Last year, Chinese companies announced new direct investments in the U.S. of close to $5 billion -- up from an average of $500 million a year previously, according to economic consultancy the Rhodium Group.
U.S. state governments such as South Carolina and Texas have been working hard to lure this Chinese money, which creates factories and jobs for out-of-work Americans particularly in states hard hit by recession. (See "American Made ... Chinese Owned" in the May edition of Fortune) The new American Yuncheng Gravure Cylinder in Spartanburg, S.C., which was featured in the article, announced that it began operations on July 1.
The latest beneficiary of China's outward investment push is a small Missouri town called Moberly, with just 14,000 people. This Saturday, Mamtek International -- a Chinese mainland-invested company based in Hong Kong -- plans to break ground on a state-of-the-art factory making sucralose, a no-calorie sugar substitute used in sodas and baked goods. The plant is expected to infuse $46 million into the local economy, create 312 jobs by the end of 2011 and double those employment figures over the longer term.
"These jobs will be a significant boost to Missouri's economy and our manufacturing sector, and they're another positive sign that our economy is beginning to move forward," Missouri Governor Jay Nixon said in a statement. From the first site visit in March to the signing of the agreement took just 73 days, an unheard-of speed, according to the Midwest U.S.-China Association which facilitated the deal. Local officials say they expect another Chinese investment soon.
Tepid response to the Chinese
Yet it isn't easy sailing for several other would-be Chinese investors into the U.S. China's fourth-largest steel producer, Angang Steel Co., said in May that it wanted to spend $175 million to buy just a 20% stake in a rebar plant being built by a U.S. company, Steel Development Co., in Amory, Mississippi. The new factory would employ 100 Americans and produce 200,000 tons of rebar a year. However on July 2, a group of 50 U.S. lawmakers called for an investigation over whether the tiny Chinese stake would threaten U.S. national security. The investigation was prompted by the U.S. Steel Manufacturers Association, which includes Nucor Corp (NUE, Fortune 500). and Steel Dynamics (STLD) as members.
Steel manufacturers were behind the U.S. government's imposition of import duties of up to 99% on steel pipe imports from China earlier this year -- a slap which in part helped convince another Chinese company, Tianjin Pipe Group, to begin building a $1 billion seamless pipe factory creating jobs for 600 Texans near Corpus Christi. Ground-breaking is planned for fall.
AES Corp., a wind-energy concern based in Arlington, Va., also had its potential $571 million investment for a 35% stake in its wind business from China's sovereign-wealth fund shelved. The bid expired June 30 after Congress was unable to conclude cap-and-trade emissions legislation. The company said talks could resume as U.S. policy becomes clearer.
China, for its part, called the Congressional inquiry and hold-up of Angang's investment a blatant act of protectionism. "Most U.S. politicians hope China can invest in the U.S. to create jobs, and the move by a small group of politicians to investigate and review the deal in the name of 'national security' is inappropriate," Yao Jian, a spokesman for the Chinese Ministry of Commerce told a news conference on Tuesday while releasing the new investment figures.
He cautioned that such U.S. protectionism would dampen Chinese enthusiasm for further investments in the United States. The Chinese Ministry of Industry and Information Technology has urged Chinese steel mills to make overseas investments in order to circumvent U.S. trade barriers. China's Iron and Steel Association says steel exports fell almost 60% in 2009 as a result of the global financial crisis, and that recovery is being hampered by rising protectionism in Europe and the United States -- to the detriment of U.S. job creation that otherwise would result.
Sheridan Prasso is a long-time contributing editor at Fortune and an Associate Fellow at the Asia Society.