Pawning the family heirlooms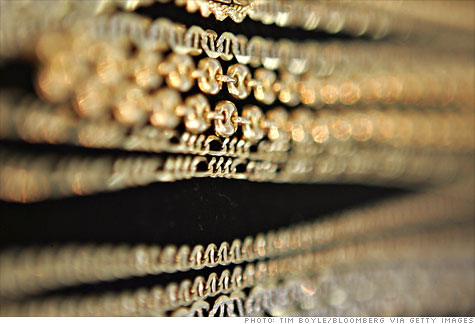 FORTUNE -- You might be forgiven if you don't place pawnshops in the vanguard of environmental sophistication. But don't sell them short. "We're the original recyclers," says Beverly Hornstein, who works in her husband Donald's pawnshop, Littman's, which has been a fixture in downtown Norfolk, Va., for 118 years.
Pawnshops were traditionally the go-to destination for customers with broken jewelry, rings and bracelets missing stones, or watches without parts. From those remnants a savvy pawnshop owner might envision and design a pair of earrings or an unusual brooch.
But the possibility of that "aha moment" is gone. "When I see an old watch now, I'm more likely to scrap it," says Donald Hornstein. "I can't be as creative as I used to be," he says, bowing to the realities of a recession that prevents customers from paying off their loans and retrieving their collateral, which is often gold jewelry. And because retail sales are down so dramatically, shop owners are looking for relief in the soaring gold prices.
"We've all been melting down pieces we never wanted to," Hornstein says of the pawn industry. We've lowered our threshold." Scrap now includes ornate jewelry and pieces made with artistry and skill, he says. "Very little is immune."
Hornstein describes an old "scrapbox" he used to keep in the back of his store, a simple storage solution for odds and ends of precious metals. Every six months or so he'd ship the contents to a refiner, a ritual that was not particularly significant. Today by contrast, "scrap is a part of my everyday working calculus," he says.
Where is his refiner? How often does he ship? What are the costs -- and how much do they eat into his profits? Any cloak-and-dagger tales about mysteriously concealed boxes of gold? Trade secrets, Hornstein says, refusing to elaborate.
The three publicly traded companies in the pawn industry --Cash America International Inc. (CSH), EZCORP Inc. (EZPW), and First Cash Financial Services Inc. (FCFS) -- reported "significantly increased earnings during the third and fourth fiscal quarters of 2009," says Emmett Murphy, a spokesman for the National Pawnbrokers Association located near Dallas.
However, most of the 13,500 pawn stores in the U.S. are small, privately owned operations facing the same fiscal difficulties as most American businesses, Murphy says. And many are testing their survival skills.
With a bachelor's degree in Russian studies from the University of Michigan and a law degree from the University of Virginia, 56-year-old Hornstein defies the tired stereotypes of a seedy pawn store owner in an industry that is itself in a state of reinvention.
More pawnshops are sprouting in upscale neighborhoods to service a growing number of affluent customers -- a trend that started about five years ago, Murphy says. Indeed, "Attracting Afflluent Customers" is one of this year's featured seminars at PawnExpo, the association's annual convention this week at Caesars Palace in Las Vegas.
Foreseeing the trend some time ago, Hornstein has advertised Littman's in audience programs at the Virginia symphony and opera and in the society/lifestyle sections of Norfolk newspapers. A toll-free number, 1-800-FOUND-IT, offers callers the store's sleuthing skills in tracking down discontinued sterling silver patterns and antique silver collectibles.
Littman's, a family-owned store since 1927, was traditionally steeped in sentiment. When Hornstein's father, Bert, owned the store, he'd order his employees: "Don't sell the silver," referring to customers' family heirlooms held as collateral. "They'll come back."
Today, the son says, they don't come back.
In this economy, "There's a new normal. Possessions aren't as dear as they used to be, " Hornstein says. "We're in a disposal society where eBay is the great equalizer." Strapped for cash, customers pawn family treasures thinking they can turn to eBay (EBAY, Fortune 500) for replacements when the economy improves.
Beverly Hornstein says she's more aware now of her middle-class customers and their immediate need for cash, or safety-net loans. "People have to pay medical bills, co-pays for doctors," she says. "Or their electricity has been cut off." And because pawnshops don't report to credit bureaus, they can help shield a customer's credit history.
"It's 5 p.m. on a Friday," Beverly says, describing the end of her work-week when the store's three employees are paid, and a customer walks in for a sizable loan. "Do we pay the customer, or meet our payroll?" she asks. The workers are consulted. If they agree, "we pay the customer." It's not easy, she admits, referring to the tough economic realities, but to stay in business "the customer comes first."