Facebook hits 500 million users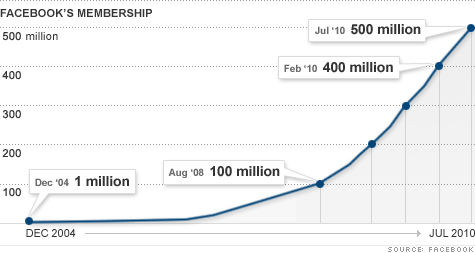 NEW YORK (CNNMoney.com) -- Facebook's population is now larger than that of the U.S., Mexico and France combined.
The world's largest social networking site announced Wednesday that it has hit a widely anticipated milestone, signing up its 500 millionth user.
In a blog post, Facebook chief executive Mark Zuckerberg said he "could have never imagined all of the ways people would use Facebook when we were getting started 6 years ago." In a video message, Zuckerberg thanked Facebook users and told them "you really have created a worldwide movement."
To show off its international reach, Facebook launched a new application Wednesday called Facebook Stories. The app lets users recount their own stories and read others' posts, filtered by theme and geographic location.
The speed with which Facebook hit the 500 million mark is a sign of its accelerating growth. Launched in early 2004, it took Facebook nearly four years to add its first 100 million users, but only five months to add its most recent batch. Around 70% of the current user base for the Palo Alto, Calif., company now comes from outside the U.S.