Lincoln hybrid costs the same as a gas-only car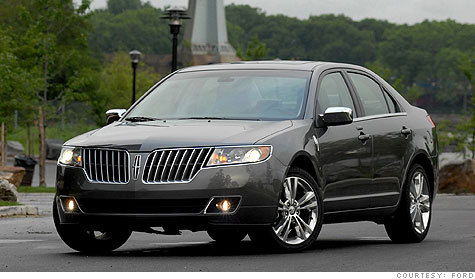 NEW YORK (CNNMoney.com) -- When the Lincoln MKZ Hybrid sedan goes on sale in the fall, the price will probably surprise a lot of people. The sticker price will be $35,180 -- exactly the same as the non-hybrid version of the car.
Hybrid cars generally cost considerably more than non-hybrid versions of the same car. In many cases the extra cost of the car can cancel out what the owner saves on gas.
The MKZ marks the first time an automaker will sell a full-hybrid car, in this case one that gets fuel economy almost twice as good as the non-hybrid, for the same price.
Hybrids like the MKZ cost carmakers more to produce because they require additional batteries, electric motors and other technologies that regular gasoline-only cars don't have."It's an unprecedented move and I think it's very smart," said Jesse Toprak, vice president of industry trends for the auto pricing Web site TrueCar.com.Hybrid fanatics may point out that the $88,000 Mercedes-Benz S-400 hybrid, introduced last year, actually costs less than other versions the S-class. The difference is that it's a so-called "mild hybrid," with a relatively minimal fuel economy gain. The Lincoln is a full hybrid.
The Environmental Protection Agency estimates that the MKZ hybrid will get 39 miles per gallon in combined city and highway driving, compared to 21 mpg for the non-hybrid front-wheel-drive MKZ.
For Ford Motor Co (F, Fortune 500)., which makes Lincoln cars, the decision to do away with any price mark-up for the hybrid was likely more about marketing than business, since it means Ford will make little -- if any -- profit on the cars, Toprak said.
Shopping quandary
After accounting for federal and state tax incentives for hybrid cars, consumers actually could end up spending less for the Hybrid MKZ than on the regular version.
That raises the question of why customers would even consider buying the non-hybrid MKZ.
The Lincoln MKZ is an entry level luxury car that's nearly identical to the popular Ford Fusion, which is also available in a hybrid version.
Market forces and manufacturer incentives will probably push down the real final selling prices of non-hybrid Lincoln MKZs, said Toprak.
"In the real market pricing of the non-hybrid, there needs to be enough of a differentiation for people to buy it," he said.