Welcome back, Conrad Black!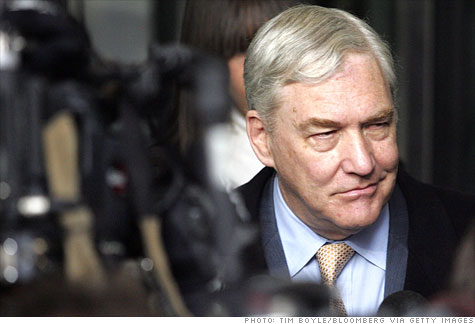 FORTUNE -- Conrad Black, the former Hollinger executive who was convicted of defrauding shareholders in 2007, was released from jail on Wednesday after a friend posted a $2 million bond. I'm happy Conrad Black is free while he awaits his appeal. Seriously. We're practically one and the same. I've missed him.
For one, we're both Canadian. Or at least we were at one point -- he ditched his citizenship a while back. Anyway, we grew up in nearly the same Toronto neighborhood -- he in the Bridal Path enclave, me in the nearby (and demonstrably more common) suburb of Don Mills.
We both took similar career trajectories. Both Conrad and I pursued journalism after a fit and start or two. The difference is that Conrad went for the business side approach with his long-time partner David Radler and bought up papers across Canada and then beyond. My first job in journalism was at the newsletter Derivatives Week. Close enough. After about 12 years of working for others, though, I became a businessman in my own right, launching Sad Eyed Lady, my own journalism outfit. What's that, you say? Merely an accounting entity created to address certain tax-related issues I deal with as a writer. Conrad knows all about that.
We both forsook Canada. Like many of his generation, Conrad Black is an anglophile, the type for whom the approval of the London crowd ranked above all. He bought the London Telegraph to get into that game, for God's sake. He had the House of Lords make him one of their own by naming him Lord Black of Crossharbour, which is actually the name of a subway station. He moved there with his pneumatic wife, the overly caustic columnist Barbara Amiel, to mix among the great and good. I didn't move there, but my brother did. I moved to New York. Again, close enough.
We've both been "confined" in the United States. Once upon the time, I had an immigration visa problem, and couldn't leave the U.S. for a period of time. Ask any of your immigrant friends -- this is not unusual. So I was, in effect, a prisoner of this country. Obviously, Conrad has been one as well, in a more literal sense. Anyway, it's all been sorted out for me. I met the love of my life, got married, and became an American citizen. Conrad seems halfway to sorting out his own issues, but he can't leave this country because he's only out on bail. He's literally a man without a state. So we're both Americans now, in a sense.
We're both biographers. Conrad has written some impressive biographies, his most recent being Franklin Delano Roosevelt: Champion of Freedom. I'm newer to the game than he is, having written just one: Last Man Standing: The Ascent of Jamie Dimon and JPMorgan Chase. But I bet mine sold more copies.
We also both like to write about Conrad Black. Black published his mid-life autobiography A Life In Progress in 1993. Ten years later, I wrote a piece about him in Vanity Fair called "The Man Who Wanted More." Shortly after that, I wrote "The Black Watch," a piece for Canada's National Post Business magazine for which I won two Canadian national magazine awards. Thanks, Conrad!
So, as you can see, we're pretty much blood brothers, which is why I am excited he's being released from jail. This despite that the release has been based on a legal technicality that does nothing to negate the fact that he and David Radler were convicted of systematically looting their company, Hollinger, over a period of years.
And this is written in utmost sincerity: while I could do without Amiel's reliably neocon, pseudo-intellectual, or totally irrelevant ripostes, Conrad Black is of far more value to the media world out of prison than within. He is a true man of letters -- Black's erudition has never been in doubt -- and his prison writings have lacked the verve of his freedom-based prose. So please, Conrad, start writing again. And do show us your prison scribblings. They're certain to be more interesting than Lindsay Lohan's will be.
Here's the bad news: I ran into Conrad Black on the steps of a hotel in Palm Beach a few years back. He was just about to go to prison. He didn't recognize me at first, but once I'd introduced myself ("It's nice to finally put a face to a name," he said) he told me that he planned to sue every single person who had maligned him once he proved that the accusations about him stealing from the company till were incorrect. He's out of jail now, which means he may have some plans in that regard.
Welcome back, Conrad. I await the lawsuit.