Newark mayor: No toilet paper for city offices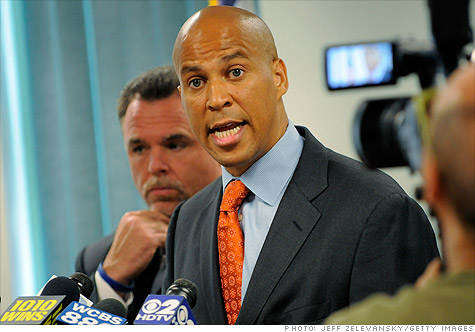 NEW YORK (CNNMoney.com) -- In a desperate attempt to fill a $70 million budget hole, Newark's mayor is taking a chainsaw to the town's budget -- even going so far as to cut toilet paper from the 2010 budget.
"Every single contract that does not go to the core function of our city in providing safe streets, providing fire protection, or other things to keep our city afloat will now be cut," Mayor Cory Booker said during an emergency press conference Wednesday.
The reductions include not buying toilet paper for city offices, cutting the work week to four days for non-uniformed city workers, which is equivalent to a 20% pay cut, scrapping city holiday decorations, and closing city pools. These extreme measures, most of which will take effect beginning in August, are expected to save the city between $10 million and $15 million.
The city came to this impasse after the city council deferred a vote to create a Municipal Utilities Authority, a key component of Booker's method of balancing the budget. Because Newark could issue bonds on the Authority, it would have cash inflow to cover the immediate deficit. Without that infusion, the mayor said they can't make ends meet.
While he accepts the council's decision, Booker said that the move leaves Newark without a budget and "an incredible financial issue."
"If the council chooses to rely on a tax increase to fill this budget hole, our homeowners will receive an entire year's worth of that tax increase in the fourth quarter -- people will see tax bills into the thousands," Booker warned.
He added that raising property taxes will likely result in massive foreclosure rates, which is unacceptable.
Booker said he is making the severe cutbacks "to avoid a tax shock to our city."