Which college grads snag the best salaries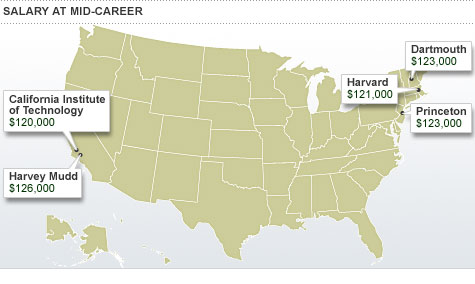 NEW YORK (CNNMoney.com) -- Attending school in California and becoming an engineering major can really pay off for college graduates -- by thousands of dollars a year.
According to a report released Thursday from salary-tracker PayScale.com, petroleum engineering majors and graduates of Harvey Mudd College are taking home the biggest paychecks.


OR

While mid-career salaries fell 1.5% overall between 2009 and 2010, engineers, scientists and mathematicians continued to rake in the big bucks, as well as students who graduated from Ivy League schools.
"Our society values something practical -- that's why poetry isn't popping up on the top of the list," said Al Lee, director of quantitative analysis at PayScale. "As in the past, engineering and [similar] fields with a strong math component plus a physical world component remain on the top, with lots of money to be made in these fields."
The data in the report, collected from 999 bachelor degree institutions in the last year, track median starting salaries of employees who graduated in the last five years and median mid-career salaries of graduates with more than 10 years of experience in a given field.
Follow the money: So where are all the lavishly paid engineers bred? According to PayScale.com, it's Claremont, Calif., where Harvey Mudd alums go on to earn a mid-level salary of around $126,000.
"Harvey Mudd is the nexus of all good places to be in terms of graduate earnings," said Lee. "Not only do engineering majors make good money and this happens to be a specialized school for engineering, but southern California is an area that tends to have some of the highest wage earners in the country."
Meanwhile, Dartmouth College, which claimed the title as the school with the highest paid graduates for the past two years, was knocked down the list to number two -- tied with Princeton -- with its graduates receiving a starting salary of $54,100 and a mid-career salary of $123,000.
Since a large chunk of Dartmouth students typically head into financial services post-college, many graduates felt a blow to their wallets in the last year as financial companies cut back on pay, said Lee.
Harvard, California Institute of Technology, Colgate, Massachusetts Institute of Technology, Stanford, Duke and Bucknell rounded out the top ten list of schools with the highest-paid mid-career graduates.
On the other end of the spectrum, if you choose Coker College in South Carolina -- the worst-paying school on the list -- be prepared for a starting salary of around $28,900 and a mid-level salary of $40,300.
Majors that pay: Topping the list of best-paying degrees this year, petroleum engineers earn a starting salary of $93,000 and a mid-level salary of $157,000.
That's $49,000 more than the next most lucrative majors, aerospace engineering and chemical engineering, which both produce graduates earning a salary of around $108,000.
"Petroleum engineering has been an incredibly profitable sector for the last few years," said Lee. "It's a very cyclical field and depends largely on the price of oil, and we're very much on an up cycle right now."
Electrical engineering was the third-highest paying major on the list, with mid-level pay of $104,000 per year, followed by nuclear engineering, applied mathematics, biomedical engineering, physics and computer engineering.
But I don't want to be an engineer! If science and math aren't your thing, don't worry. There are plenty of other majors -- many you wouldn't expect -- that will put you on the money-making track.
"People always think they have to be an engineer if they want to make good money down the line, but there are a lot of other majors that will help you find good careers with salaries that anyone would be comfortable living on," said Lee.
A building construction major typically leads to a mid-career salary of more than $94,000, while mid-level government majors earn $87,300 on average. International relations, supply chain management and urban planning also boast average salaries of more than $80,000 a year.
Even majors like film production and zoology can help you land a good-paying job. While film-makers earn a starting salary of only $36,100 and recently-graduated zoology majors tend to make about $34,600, mid-level salaries come in at about $77,800 and $68,800, respectively.