Flipboard hype crashes iPad app's servers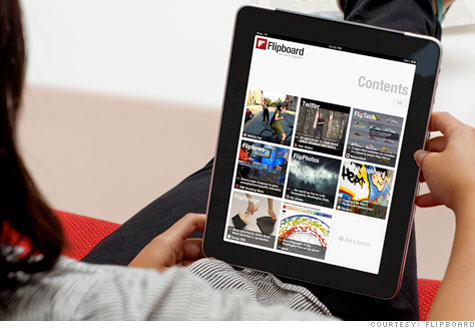 NEW YORK (CNNMoney.com) -- Just hours into its public debut, the highly anticipated, glowingly reviewed, social media aggregating iPad application called Flipboard crashed.
The new app promises to create a "personal magazine" by bringing in content from Twitter, Facebook and other social media sites. But when a sea of eager downloaders tried to log into their various social media accounts on Tuesday, the requests overwhelmed Flipboard's servers.
Users encountered error messages that said, "Due to overwhelming interest we are currently limiting the rate at which we are accepting new Facebook and Twitter connections." Flipboard urged users to follow its Twitter account, @flipboard, for updates on the status of the server delays, saying, "We promise it will be worth the wait."
Flipboard's solution is still pending. As it works to add more server capacity, the company is set to debut a new version of its software that will create a wait list for users trying to connect to their Twitter and Facebook accounts. When the app is ready for users to sign in, it will send them e-mails notifying them that they're next in line.
Though Flipboard encouraged patience, Twitter users sounded off on their frustrations.
"Has Flipboards 15 mins of fame come and gone? The backlash begins!" said one Twitter user.
Many blamed tech blogger Robert Scoble for creating too much hype about Flipboard. He posted nearly 30 tweets on Wednesday about the new iPad app.
"24 hours later, where is @Scobleizer after destroying the launch for @flipboard? Too much hype too soon. I hope @flipboard can recover," tweeted another user.
It's not the first time that incredible demand has overwhelmed an app or website.
Twitter famously displays its "Fail Whale" several times a month, as it is routinely over capacity. The company said Wednesday that it is building a new data center in Salt Lake City that it will move into later this year.
Apple's Store app crashed last month on the day it launched, as iPhone 3GS users bombarded it with requests to buy a new iPhone 4.
And users looking for information online about Michael Jackson's death last summer caused a host of websites -- including mighty Google -- to crash or slow down to a crawl.