Sprint Nextel: The subprime of smartphones?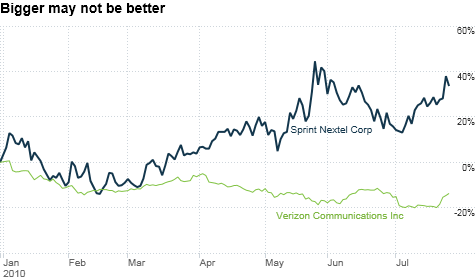 NEW YORK (CNNMoney.com) -- At first blush, there's not a lot for an investor to love about Sprint Nextel.
It is a lot smaller than AT&T and Verizon. Customers have been leaving the company for years, and Sprint Nextel lost another 75,000 net subscribers in the first quarter.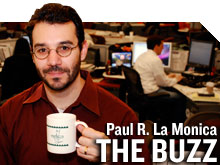 Analysts expect Sprint Nextel to report a financial loss for its second quarter on Wednesday morning. That would be the company's eleventh consecutive quarter without a net profit.
So why are shares of Sprint Nextel (S, Fortune 500) trouncing those of Ma Bell and Verizon so far this year?
Sprint Nextel's stock is up nearly 35% in 2010. Meanwhile, AT&T (T, Fortune 500) is down 7% and Verizon (VZ, Fortune 500) is off 14%, making them among the worst performers in the Dow Jones industrial average.
But Sprint Nextel seems to be benefiting from the fact that it's a turnaround story. Even though it's still losing money and subscribers, those losses are narrowing.

"During the financial crisis, there were some doubts about whether Sprint Nextel would even survive because it had a heavy debt load. So there is some relief that the company is not going under," said Joseph Bonner, an analyst for Argus Research.
In addition, the company's widely-touted 4G wireless smartphones are earning raves from many gadget connoisseurs. The EVO, a phone made by Taiwanese tech firm HTC that runs on Google's (GOOG, Fortune 500) Android mobile operating system, could be a major hit for Sprint Nextel.
A blogger on tech site ZDNet wrote last month, for example, that "the EVO 4G from HTC and Sprint is the new top-dog Android phone and frankly, it beats the pants off anything from Cupertino."
Cupertino, for those of you who aren't members of the cult of Steve, is the town in California that is the home base of iPhone maker Apple (AAPL, Fortune 500).
Timothy Horan, an analyst with Oppenheimer & Co., wrote in a note previewing Sprint Nextel's second-quarter results that he expects EVO sales were "solid" in the quarter. For that reason, he thinks net subscriber losses will slow further.
Investors will also probably be eager to hear more about marketing plans for Sprint Nextel's next 4G phone, the Samsung Epic. That's due to launch in August, and Steve Clement, an analyst with Pacific Crest Securities, said this could have a favorable impact on sales in the third quarter.
"4G is a decent driver of growth for Sprint Nextel. That's why expectations and sentiment are improving and the company's subscriber base appears to be stabilizing," Clement said.
Finally, investors are also excited about Sprint Nextel's majority investment in wireless networking company Clearwire (CLWR), the firm that actually powers Sprint Nextel's 4G network. Sprint Nextel owns 51% of Clearwire.
But can Sprint Nextel actually turn this buzz into profits? Analysts aren't predicting a quarter in the black for the company until the first quarter of 2012.
Clement said he has a "neutral" rating on the stock because much of the good news may already be priced in to Sprint Nextel's shares. Because Sprint Nextel is unprofitable, analysts look more at a multiple using earnings before interest, taxes, depreciation and amortization, or EBITDA.
On that basis, Sprint Nextel is trading roughly in line with the valuations of AT&T and Verizon. But Clement pointed out that because the company's Clearwire stake is not consolidated within Sprint Nextel's results, the valuation for Sprint Nextel may be deceptively cheap. Factoring in Clearwire, it trades at a premium to its two larger rivals, which doesn't seem warranted.
But perhaps the biggest problem for the company is that even though the sexy 4G phones are what geeks will drool over -- and pay a pretty penny for -- the real growth at Sprint Nextel is still being powered by its prepaid wireless brands such as Boost and Virgin Mobile.
In the first quarter, Sprint Nextel added a net of 348,000 prepaid subscribers while losing a net of 578,000 subscribers from its so-called post-paid calling plans.
Customers who pay for wireless service in advance are often derisively referred to as subprime cell phone users, because they are not required to get a credit check.
They also spend a lot less for wireless services than other Sprint Nextel customers. Average revenue per user for prepaid subscribers in the first quarter was $27 a month, compared to $55 a month for post-paid customers.
That's why Bonner has a "hold" on the stock. Sure, momentum may be on Sprint Nextel's side as people rave about the EVO and other 4G phones. But as long as the company is relying more on brands like Boost for a subscriber boost, profits may suffer.
So don't be surprised if investors start to Sprint for the exits if the company can't find a way to turn 4G hype into real subscriber growth and profits soon.
- The opinions expressed in this commentary are solely those of Paul R. La Monica. Other than Time Warner, the parent of CNNMoney.com, La Monica does not own positions in any individual stocks.