Who is Bob Dudley?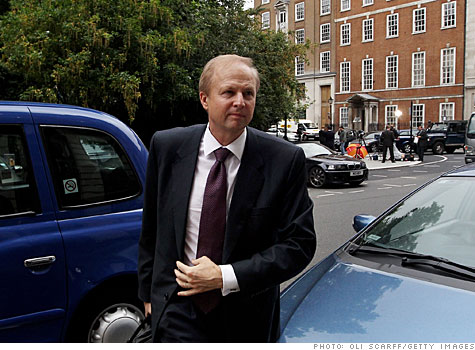 NEW YORK (CNNMoney.com) -- So just who is Bob Dudley, the man named Tuesday to replace Tony Hayward as BP's chief?
A chemical engineer by training, Dudley got his start in the oil business working for Amoco, where he spent nearly two decades before the company merged with BP in 1998.
Since then, he's worked with various BP (BP) divisions, including a brief stint helping to oversee the company's solar, wind and hydrogen businesses. Most recently, he headed up TNK-BP, a joint venture that would become Russia's third-largest oil and gas company. He was named to BP's board in 2009.
Dudley's breadth of work experience and tenure within the oil industry make him a natural choice to succeed Hayward.
But many believe what has thrust him to the top is his background as a native of the Gulf Coast region.
Dudley, who grew up in Mississippi, has expressed a personal commitment to the clean-up effort and reiterated that pledge on Tuesday.
"In this change of roles, I particularly want the people of the Gulf Coast to know that my commitment to remediation and restitution in the region is not lessened. I gave a promise to make it right and I will keep that promise," he said in a statement after being named to his new post.
Dudley, 54, has spoken of moments swimming, fishing and family trips to the barrier islands off the coast of Mississippi and Louisiana.
Putting an American CEO in place, particularly one from the Gulf Coast region, could certainly help BP better manage the public relations nightmare the company is now facing, both locally and nationally.
The company has already committed $20 billion to compensate individuals and businesses affected by the spill. But it still could face billions more in fines and legal costs associated with the Deepwater Horizon, which exploded in April.
BP has since managed to temporarily cap the underwater well. But attempts to provide a permanent fix have been delayed as Tropical Storm Bonnie prompted crews to suspend efforts to create a relief well late last week. BP said Monday it will probably be several more days before it can resume drilling operations.
Hayward, who took over as CEO in May of 2007, was pulled off day-to-day leadership of the cleanup operation in June in favor of Dudley.
Dudley, a graduate of the University of Illinois, is married with two children and has, most recently, been living in London.
-- Grace Wong in London contributed to this report.