California workers stiffed again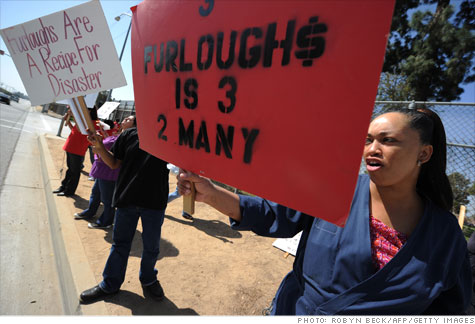 NEW YORK (CNNMoney.com) -- California's state workers just can't catch a break.
For the past year and a half, 200,000 of them have been forced to take three unpaid furlough days a month -- losing as much as 14% of their pay.
The furlough order expired July 1, when workweeks and full salaries were restored.
But the reprieve was short: The state's workers are getting slapped back down.
On Wednesday, California Gov. Arnold Schwarzenegger ordered state agencies to reinstitute "furlough Fridays" starting Aug. 1.
Schwarzenegger's executive order declared a state of emergency over a $19.1 billion budget shortfall that has left the state without a budget for the fiscal year that began July 1.
The furloughs will continue until a budget is passed and the state's finance department ensures California that has enough cash on hand for the year.
"Our cash situation leaves me no choice but to once again furlough state workers until the legislature produces a budget I can sign," Schwarzenegger said in a statement.
Schwarzenegger, a Republican, has tussled with the Democrat-led legislature over the best way to close the deficit. Republican lawmakers have proposed severe cuts to state social services such as welfare and Medicare, instead of hiking taxes. Democrats oppose the program cuts and instead want tax increases on industries like oil production.
Like the first set of furloughs, which were in effect from February 2009 through June 2010, fire and highway patrol workers are exempt. The new order also exempts "revenue generating agencies and quasi-public entities with non-general fund resources." The average salary of state workers was $65,484 last year.
But the bad news doesn't stop here. State Controller John Chiang has said he could be forced in August to start issuing IOUs to conserve funds.
And the same 200,000 workers forced to take furloughs already have been threatened with severe, though temporary, pay cuts. Earlier this month Schwarzenegger's administration moved to cut workers' salaries to minimum wage -- $7.25 an hour. The workers would receive back pay when a budget is passed.
But Chiang has refused to make the pay cuts, sparking a slew of legal disputes. As the fight makes its way through the courts, workers are left uncertain.
Has your job been furloughed? We want to hear from you. E-mail your story to julianne.pepitone@turner.com and you could be part of an upcoming article. For the CNNMoney.com Comment Policy, click here.