RIM stock rises 4% on new phone speculation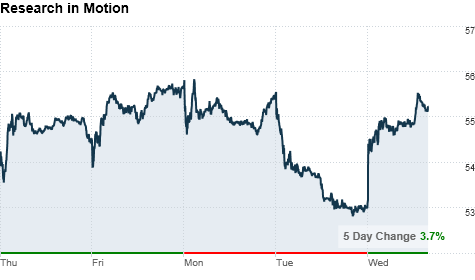 NEW YORK (CNNMoney.com) -- Research in Motion shares jumped 4% Wednesday on speculation that the BlackBerry maker will unveil a new smartphone next week.
RIM has scheduled a press event on Tuesday in New York City with wireless provider AT&T (T, Fortune 500), but the company declined to give further details on what it plans to announce.
Websites such as PC World posted articles speculating that the company will unveil the long-awaited Blackberry Bold 9800, a slider phone that is expected to run a new BlackBerry 6 operating system.
RIM (RIMM) teased BlackBerry 6 at its WES conference in April, and since then the company has posted several videos on its blog previewing the touch-based operating system. The new software aims to give BlackBerry parity with features available on most smartphones, including a full Web browser and a modern home screen.
RIM could use a big splash. Though the company has the highest U.S. smartphone market share, at 41.7%, growth has slowed in recent quarters as competitors eat away at RIM's sales.
The latest data from comScore showed Google's (GOOG, Fortune 500) Android platform skyrocketing from from 9% of the total U.S. smartphone market in February to 13% by May.
Apple (AAPL, Fortune 500) clocked in right behind RIM, with a 24.4% market share - a figure likely to grow, thanks to the popularity of Apple's new iPhone 4.

Shares of RIM ended Wednesday at $55.41, a 4.2% gain on Tuesday's closing price.