Toyota recalls 400,000 cars over steering issues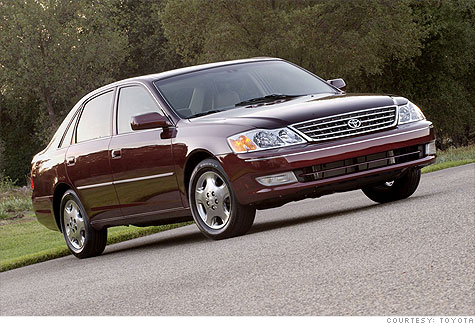 NEW YORK (CNNMoney.com) -- Toyota Motor Corp. said Thursday it was recalling more than 400,000 older-model vehicles sold in the United States, citing potential steering-related problems in both.
The Japanese automaker said the recall would affect 373,000 Toyota Avalons manufactured between 2000 to 2004. The company said the vehicle's steering lock bar could break under certain conditions, increasing the risk of a crash.
Toyota (TM) also cited steering issues in its recall of some 39,000 Lexus LX 470 vehicles. The company said that if the vehicle experienced a severe impact to the front wheels, such as striking a pothole, the steering shaft could disengage over time. The recall only affects vehicles from model years 2003 to 2007.
The company said it was not aware of any accidents related to its Lexus LX 470.
The latest recalls came less than two weeks after the company was subpoenaed by a federal grand jury to produce documents related to steering problems in its vehicles.
The company has also been undertaking a massive effort to rebuild its image in the wake of a number of quality and safety problems that came to light earlier this year.
In recent months, the automaker has recalled more than 8 million vehicles worldwide for a variety of safety issues, including possible unintended acceleration and problems with anti-lock brake software.
"Toyota is continuing to work diligently to address safety issues wherever they arise and to strengthen our global quality assurance operations so that Toyota owners can be confident in the safety of their vehicles," Steve St. Angelo, Toyota chief quality officer for North America, said in a statement Thursday.
The company said it would begin to send out notifications in mid-August to owners of the vehicles affected by Thursday's recall. Drivers will be able to bring their car to a local dealer to have the vehicle fixed at no charge.