Money makeover: Married couple, separate finances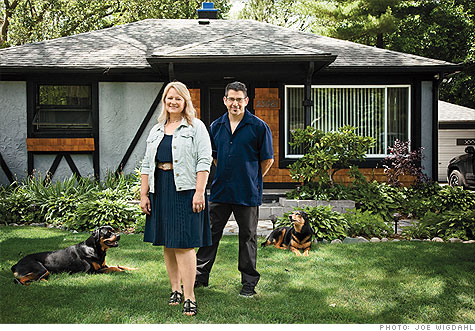 (Money Magazine) -- Michelle Spranger and Scott Zuckerberg have been husband and wife for eight years, but they've yet to marry their finances.
Scott, 43, has a full-service broker, variable annuities, and a union pension, while Michelle, 42, uses a discount brokerage account and IRAs. Neither knows what the other is doing.
"The only thing we have together is a checking account," Michelle says. "We need to merge and have a common goal."
Troy, Mich., planner Warren McIntyre agrees. For starters, the couple aren't even sure how much they're saving annually. Both are self-employed: Michelle is a freelance producer, meeting planner, and writer earning $90,000 to $115,000 a year; Scott makes $60,000 to $75,000 as a lighting and rigging technician for films.
With fluctuating incomes, they must be really diligent about saving. McIntyre's advice: Sock away at least 15% of their pay. That, plus Scott's pension and their real estate, should get them to a comfortable retirement.
The solution
1. Aggregate their accounts. Michelle uses Quicken to balance the couple's checkbook and to keep tabs on her accounts. McIntyre suggests tracking Scott's accounts there too -- and for the couple once a year to go over their accounts together and rebalance their investments.
2. Use tax-deferred accounts. Michelle can use her SEP-IRA to hit her 15% savings target. Scott, who isn't eligible for a SEP, can fund a Roth IRA (after deducting expenses, the couple's adjusted gross income often allows for it) and should use that plan and taxable accounts.
3. Add bonds to the mix. Not counting rainy-day funds, just 2% of their nest egg is in cash and bonds -- too risky. It should be 25%.