Summertime tax savings
NEW YORK (CNNMoney.com) -- April may be eight months away, but it is never too early to start thinking about saving on your taxes. Take advantage of these summer savings before it is too late.
Tax credits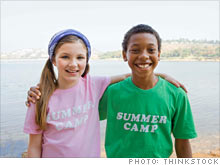 Everyone wants to beat the summer heat. If you are planning on making upgrades to cool down your digs, remember that tax credits of up to $1,500 are available on everything from windows and doors to insulation and cooling systems, provided those home upgrades are energy efficient.
And get some cash back on your kids' summer camp.
If you send a child twelve years old or younger to a day camp, the cost may count as an expense towards the Child and Dependent Care Credit. This credit only applies if your child is at camp while you are working or looking for work.
Rent your home
Live in a touristy area? Consider renting your home for a week or two this August. You can rent for up to 14 days without declaring taxable income.
"Two weeks is the max that you can rent," says Matt Becker, Partner at BDO, an advisory and consulting firm. "The two week rule applies with regard to your federal tax return, but this may not be true with your state taxes, so you need to check into your local rules before you rent."
And if you own a second home you don't use much, rent it and deduct the expenses. According to Becker, "the important thing to remember is, if you want to treat the house like a rental house, make sure you don't use it personally more than 14 days." If you plan to spend less than 14 days a year in the home and rent it out the rest of the year, you can deduct expenses related to renting, such as maintenance and insurance.
Summer work
Whether you or one of your children has taken on a summer gig, how you or your dependent is classified with an employer will be very important come tax time.
Check your status now! If you are an employee, your employer is required to withhold federal income tax from your paycheck -- but not if you are an independent contractor. This will mean a high tax bill come April.
Furthermore, says Matt Becker, "if you are an employee, your employer is required to bear the cost of half of most payroll taxes, like FICA and Medicare. So if you are treated as a contractor, when you should be treated as an employee, you might end up paying those taxes yourself."
Talkback: Did you know that you could apply for a tax credit for sending your kid to day camp?