Why spend $300 a night for a hotel?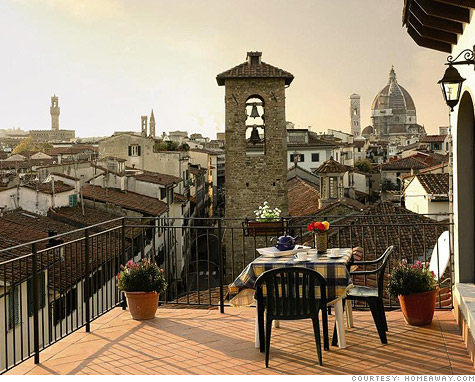 (Money Magazine) -- Book a hotel in a popular destination and you know what to expect: a bed, a mini-fridge, and a big bill at checkout. In Europe's big cities, for example, you can easily spend anywhere from $150 to $300 a night (hotels in Florence average $205).
But why spend so much, when you can rent a place, swap houses, or arrange a home stay for a lot less? With these options, you'll also get more space, and the chance to live like a local. Hurry, there's still time to grab a deal before summer's end.
Rent a place
The deal: The soft real estate market has resulted in a flood of vacation rentals. But how much -- if anything -- you'll save over a hotel varies by location, so check prices.
Generally, stays of at least seven nights yield the lowest rates. (In London, a typical hotel runs about $200, but we found a one-bedroom in a trendy area for $124 a night for a week.) You'll see bigger savings if you are traveling with a group and had planned to book multiple hotel rooms.
Where to look: HomeAway.com. It offers the largest inventory of rentals -- more than 215,000 -- and great tools for sorting through them. You're a procrastinator? Visit VacationRentals.com for last-minute deals.
Avoid problems: Ask the owner for references, and contact those folks before booking, says Sarah Schlichter of IndependentTraveler.com. Get terms spelled out in a contract. And aim for a rental that lets you pay by credit card or PayPal so you can dispute charges if the place isn't up to snuff.
Trade houses
The deal: Home exchanges, in which two families swap pads, are an increasingly popular option. No wonder, as both parties get free lodging. The catch: It can be tricky to find someone who wants to vacation in your town when you want to travel.
Where to look: HomeExchange.com ($48 for a three-month membership). This large (37,000 listings) site lets you search for swaps based on date and location. For best results, make arrangements a few months ahead.
Avoid problems: Look for homes that have been exchanged before, and ask for references. Chat by phone with swapmates, and iron out details in writing -- for example, is it okay for them to use your car?
Be a guest
The deal: Plenty of regular folks are opening spare bedrooms to travelers at rates well below those of hotels. Think B&B but on a smaller scale.
Where to look: AffordableTravel-Club.net ($65 to $80 a year) has members ages 40 and up in 49 states and 52 countries. Those who join do so not only for the savings but to meet people, so hosts charge just $20 to $30 a night to cover costs. There's no obligation to host, but you'll be listed in the directory.
For more selection without the club aspect, try Airbnb.com. Rates vary, and you'll pay a 6% to 12% fee, but a search in New York City turned up a private room and bath for $105 a night (vs. $231, on average, for a hotel).
Avoid problems: Interview the hosts ("Will we share a bath?" "Do you have kids?") in advance. The sites themselves offer some protections as well: With Affordable Travel Club, you don't pay until you arrive, so if you don't like what you see, you can back out. Airbnb will help you find another place if your room is not as described.