Is Kindle 3 a game-ender for e-reader wars?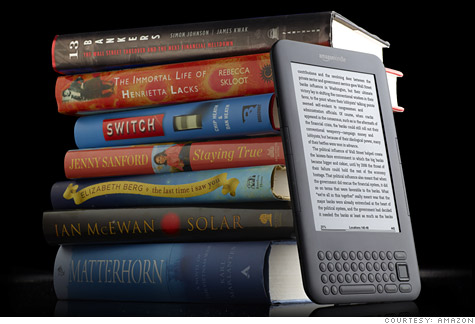 NEW YORK (CNNMoney.com) -- Amazon unveiled its long-awaited Kindle 3 on Thursday, slashing the price to $139 and setting the tech world abuzz about what the move means for the ongoing e-reader wars.
The Kindle 3 has the same six-inch screen as previous generations, but it's smaller, lighter, turns pages faster, has a longer battery life, holds more memory and includes more software features.
Amazon (AMZN, Fortune 500) introduced a Wi-Fi only version of the Kindle for $139 -- a new price low for a major-brand e-reader -- while keeping its traditional version, with 3G service, at $189. Both new models will begin shipping August 27.
That leaves Amazon with no Kindle inventory to deliver for most of August: The Kindle 2 has been sold out on Amazon's site since earlier this week. The pricier and larger Kindle DX, which sells for $379, remains available.
It's the latest move in a race to see which e-readers will survive in a fiercely competitive market -- and just how low prices will drop. Beyond the Kindle, other dedicated e-readers include the Barnes & Noble (BKS, Fortune 500) Nook, the Sony Reader and Borders' Kobo.
"E-readers are by far the hottest topic in pricing this year," said Rafi Mohammed, a pricing consultant and author of the new book The 1% Windfall. "What's fascinating is that price wars tend to signal a tipping point, that consumers have accepted the product and companies will have to compete for their business."
The future of price wars: That competition came to a head last month, when Barnes & Noble cut its Nook price to $199 from $259. Just hours later, Amazon slashed its Kindle 2 to $189.
Some analysts have forecast that the "sweet spot" for e-reader prices is $99. Russ Grandinetti, vice president of Kindle content, told Forbes that Amazon plans to "keep improving how we manufacture the Kindle to offer as competitive a price as possible."
Grandinetti seemed to imply that a $99 Kindle could be a possibility, telling Forbes, "We're only two and a half years into this business. Stay tuned."
But companies would do well to avoid a race to the bottom, said senior analyst Michael Norris of Simba Information, a research firm that covers the media and publishing industries.
"They should be focusing on showing customers what gives their specific reader extra value, rather than 'My lump of plastic is cheaper than that lump of plastic,'" Norris said.
iPad killed the e-reader? Grandinetti seems to be following Norris' advice. The Kindle 3 doesn't have a color display or touchscreen. Many had speculated these features would roll out in the new iteration to compete with the Apple (AAPL, Fortune 500) iPad, which launched in April.
Instead, Amazon is keeping its device light, inexpensive, and tailored for just one task: reading.
"Reading on the lightweight readers is a joy, and there's no comparison," Norris said. "The iPad is used to surf the Web, watch video and listen to music -- reading books falls way down the list."
Even as the competition rages on, consumers have been somewhat slow to adopt the fast-moving e-book technology. Amazon has never released its total Kindle device sales, and while it said that its e-book sales recently have outpaced hardcover sales, that's still a small drop compared to its overall book sales, including paperback and used books.
Data from Simba Information show only 9% of American adults bought at least one e-book last year, a small increase from 8% in 2008.
"E-readers don't replace print books," Norris said. "They replace only each other."