SEC charges billionaire brothers with fraud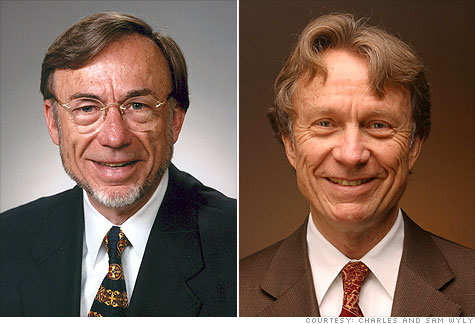 NEW YORK (CNNMoney.com) -- Two billionaire brothers face federal fraud charges for selling stock in companies which they helped oversee and then trying to conceal some $550 million in gains.
In a complaint issued late Thursday, the Securities and Exchange Commission said Sam and Charles Wyly Jr. attempted to hide their ownership and trading of stock in these firms by creating an elaborate system of off-shore trusts and subsidiary companies.
The SEC said the Wylys served as corporate directors at four different firms that were publicly traded at the time: Michaels Stores, Sterling Software, Sterling Commerce, and Scottish Annuity & Life Holdings, now known as Scottish Re Group Limited.
Over a period of 13 years, the brothers went to great lengths to hide their scheme, including making misleading statements to brokerage firm intermediaries, according to the SEC.
"The cloak of secrecy has been lifted from the complex web of foreign structures used by the Wylys to evade the securities laws," Lorin Reisner, deputy director of the SEC's Division of Enforcement said in a statement.
Attempts to reach the Wylys' attorney were not immediately successful.
Thursday's announcement is not the Wylys' first brush with the law. In 1979, Sam Wyly came under investigation by the SEC over a bond deal his company was involved with. He would ultimately settle the case without admitting or denying the allegations.
The Wylys' personal wealth was also at the center of a reported federal and state investigation from 2005 into whether Bank of America was helping wealthy clients hide their fortunes from the IRS.
In 2001, Sam Wyly made headlines following a drawn-out battle to win control of the software maker Computer Associates.
Throughout their respective careers, both men also established deep connections within the political world. Sam Wyly served as chairman of a presidential advisory commission under Presidents Nixon and Ford. Charles Wyly also served on a presidential advisory council on the issue of management improvement.
Between 2002 and 2010, members of the Wyly family made more than $178,000 in political campaign contributions through an entity called Ranger Governance, according to the nonprofit research firm MapLight.org.