China says it tops Japan as No. 2 economy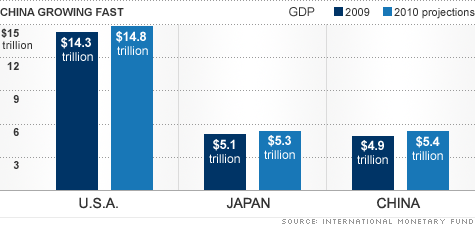 NEW YORK (CNNMoney.com) -- China has surpassed Japan to become the world's second largest economy, lagging only behind the United States, a Chinese government official said in remarks published on Friday.
Yi Gang, China's chief currency regulator, broke the news in an interview with China Reform magazine, which was posted on the website of his agency, State Administration of Foreign Exchange.
Japan has yet to announce its gross domestic product for the second quarter, however. Many economists also are likely to base official rankings for world economies on annual data. But few doubt that China has already achieved the milestone of becoming the second-largest economy.
In 2009, China's nominal gross domestic product was worth $4.9 trillion, just 3% smaller than Japan's at $5.1 trillion. The United States still has, by far, the world's largest economy. Its GDP was $14.3 trillion in 2009.
China's economy grew at a pace of 11.1% in the first half of the year, Chinese officials said earlier this month, and for the full year, the International Monetary Fund expects the country to post a growth rate of 10.5%.
Meanwhile, the Japanese economy is only expected to rise at a rate of 2.4% for the current year.
"Japan is a mature economy. Like the United States, it is at a frontier of what's possible in terms of economic development and has to rely on innovation to grow," said Todd Lee, managing director of the Greater China division at research firm IHS Global Insight. "China has a lot of room for catch-up growth, which is what we've been seeing for the last 30 years."
Thanks to its significantly larger population and the decision to allow the yuan to trade freely against the dollar, China could eventually top the United States as the world's largest economy.
It will probably be at least a decade before that happens, though. Lee expects China to surpass the United States before 2025, but added that it could happen sooner rather than later if China continues to let the yuan appreciate.