Condos for less than the cost of a Corolla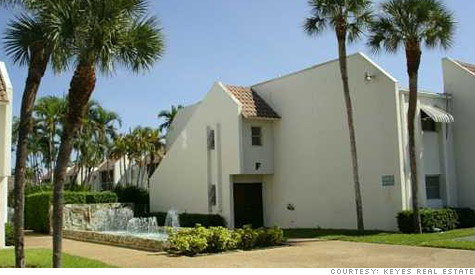 NEW YORK (CNNMoney.com) -- The housing bust has made owning a home a lot more affordable -- but in some places, prices are extraordinary; you can buy a nice condo for less than the cost of a new family car.
Some cities have dozens of attractive condominium listings selling for $50,000 or $25,000. There are some selling for less than a new Toyota Corolla. And these are not derelict hovels in crime-ridden communities: These homes are often in move-in condition and located in nice neighborhoods.
"Not to sound like a salesman, but there are some real bargains out there," said Kevin Berman, a broker with Bankers Realty Services in Fort Lauderdale, Fla.
The housing bust has taken down the national median home price by about 23% since 2007, according to the National Association of Realtors (NAR). But condo have fallen even further, down about 25%.
In Sacramento, Calif., condo prices have fallen 59% from what they averaged in 2007, according to NAR. Miami condo prices have plunged 65%, and in Las Vegas they are off 66%.
Prices of individual units are down even more. One condo in Deerfield Beach, Fla., that sold for $115,000 five years ago now lists for $25,000. That's a drop of nearly 80%.
Much of these price drops can be attributed to over development during the boom. Much of that came in Sand State markets such as Las Vegas Miami and Phoenix, where prices for all properties are have fallen precipitously.
Berman has a one bedroom condo in one of these areas with a listing price of $15,000. He said it needs a little work, and it's in a community that doesn't allow you to rent out the property,, but still, $15,000?
"It's great for a vacation property or a retirement home," he said.
Another of his listings is in North Miami, about three miles from the beach. It's a 900-square foot, one-bedroom, one-and-a-half bath with a community swimming pool, central air and assigned parking that costs just $23,450. That's less than a fully loaded new Camry.
In Las Vegas, there are more than 200 condos listed for $30,000 or less. A two-bedroom, two-bath condo with a covered patio in North Las Vegas can be had for just $30,000.
Of course, condo owners have other expenses, particularly maintaining the grounds and common areas, but these tend to be quite low. And the property taxes are also often modest.
Plus, if these housing markets ever rebound, there's even likely to be some price appreciation for these homes. You can't say that about a new car.