Focus on Ford stock: The Big One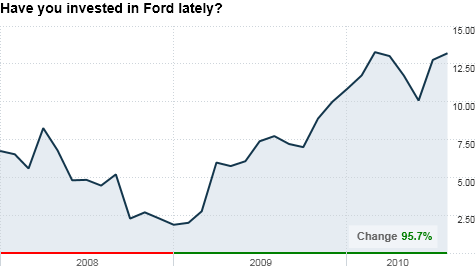 NEW YORK (CNNMoney.com) -- Call it the Big One. If you want to follow a Made-In-America approach to investing in the auto industry, your only choice is Ford Motor.
That hasn't been a bad option as of late. Ford's stock is up more than 30% this year. And that comes on the heels of a nearly 340% surge in 2009 as investors piled back into the stock once it became clear that Ford was in much better financial shape than rivals General Motors and Chrysler.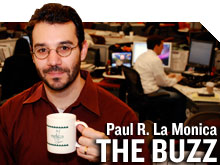 The Ford (F, Fortune 500) rally makes sense. The automaker reported its best quarterly results in six years last month.
On Monday, it completed the sale of Volvo to Chinese automaker Geely and received a debt upgrade by ratings agency Standard & Poor's. Ford also announced Tuesday that sales in July rose 5% from a year ago.
But is the stock still a buy? Despite the upgrade, S&P analyst Robert Schulz didn't exactly give a ringing endorsement of the company. He wrote that "the upgrade reflects our reassessment of Ford's business risk profile to weak from vulnerable." Talk about damning with faint praise.
Schulz also warned that the recovery in the United States remains weak, and that the outlook for auto sales in Europe, Ford's second-largest market, is troubling.
There's also the fact that Ford continues to rely heavily on gas-guzzling light trucks at a time when consumers are shifting to smaller fuel-efficient cars.
So there are clearly many risks that remain for Ford. At the same time though, some experts think that the bear case for Ford is overly gloomy and that the company's run-up is not only justified, but that there is more room to run.
David Whiston, an equity analyst at Morningstar in Chicago, said the stock, trading at just 8 times 2011 earnings estimates, is very cheap. He thinks the stock could hit $20, up about 50% from current levels, in the next few years.
"It's funny. There is a lot of bearish sentiment about the second half but people should look beyond that and at the industry as a whole. There is a lot of pent-up demand," he said.
Whiston added that fears of auto sales falling in the second half of this year due to tough comparisons to the Cash for Clunkers-fueled strength in the third quarter of 2009 could prove to be misguided and that sales could go up.
He's not the only one who thinks the second half of 2010 will be better than last year. Mike Jackson, the CEO of car dealer AutoNation (AN, Fortune 500), said in a conference call with analysts last month that auto sales in the third quarter should "exceed" the same period last year despite the big impact from Clunkers in 2009.
And even though Ford still has a big emphasis on larger vehicles like trucks and SUVs, it has arguably done the best job of the Detroit auto manufacturers in shifting attention to smaller vehicles. Along those lines, the Focus has been a big hit.
Ford has been tweaking its lineup of larger vehicles as a result of consumer interest in fuel economy as well. The company's 2011 Explorer SUV is now technically a crossover that's built on the same platform as Ford's popular Taurus sedan.
Ford could also continue to benefit from the fact it didn't need to go bankrupt and take a giant government bailout package and hasn't been hurt by recall problems. According to a survey about corporate reputations released by market research firm Vision Critical last month, Ford's reputation was viewed far more favorably by consumers than GM and Toyota (TM).
Bob Bacarella, manager of the Monetta fund in Wheaton, Ill., which owns shares of Ford, said that the company should gain even more market share, particularly at the expense of GM.
"Ford has a lot of great products. It's definitely going to be a market leader. If anything, GM ought to be following Ford," he said.
Bacarella conceded that Ford's shares are likely to hit some speed bumps here and there. But he said people shouldn't declare it overvalued just because it's surged from where it was trading during the worst of the recession.
He added that the likely initial public offering of GM sometime later this year or in early 2011 could also be a boost for Ford since it may provide more positive investor attention on the industry as GM continues its own turnaround.
"The fact that Ford is now up so much from the bottom is meaningless because the base was so low," he said. "GM's pending IPO will help stabilize Ford. I'm optimistic and wish I owned more."
- The opinions expressed in this commentary are solely those of Paul R. La Monica. Other than Time Warner, the parent of CNNMoney.com, La Monica does not own positions in any individual stocks.