Mad Men: Fictional product pitches, real ads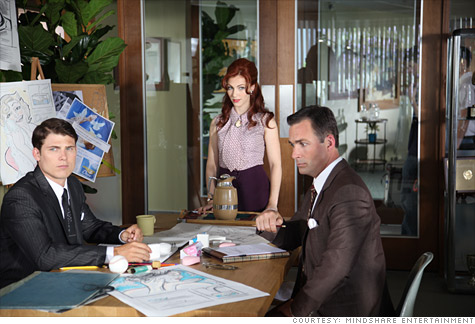 FORTUNE -- Season four of the AMC show and Emmy favorite Mad Men has started, and change is afoot. Don Draper and his gang now operate out of new digs: Fortune's own Time-Life building on 50th street (someone tell us which floor!).
Despite his short distance from Madison Avenue, Draper remains an ad man. Roger, Peggy, Joan and the crew are now working for Sterling Cooper Draper Pryce, and viewers are still treated to creative pitches for 1960s products by the dapper Draper.
We recently looked at the stories behind some of the brands in the show's three complete seasons in Mad Men is back, and so is product placement. Now we've got the update for season four so far -- stay tuned for coverage of product placement in the rest of the season.
Episode 1: Jantzen
In the season premiere, Don's skills are challenged by two executives from Jantzen swimwear. We don't want to give too much away, but we will share that Don isn't exactly impressed by the risk-averse executives from the popular bikini-maker.
Today, the Jantzen brand is now owned by Perry Ellis International, which says it did not pay for Jantzen's use in the show. Jantzen said that Mad Men made use of its archives for period imagery to assist in the show's set décor. Some of the swimsuit silhouettes in the opening credit sequence are also from archival images.
Jantzen said it was not surprised that it would appear in the content of Mad Men, given the company's long history in the public eye (its currently celebrating its 100th anniversary). But it's unlikely any company would have paid for the tumultuous meeting between Jantzen's executives and Draper, not to mention the portrayal of the executives themselves. Modern-day Jantzen had no problem with the depiction of the meeting, saying that it simply showed the client and agency relationship from the ad man's point of view.
For viewers, Jantzen makes for a memorable addition to the Mad Men brands, even if we are left scratching our heads that Draper would have walked away from an account about bikinis.
Episode 2: Pond's Cold Cream
This week's episode brought back Freddy Rumsen hoping that Pond's cold cream would be his ticket back into the ad business. Pond's features prominently before the fictional heir of Lucky Strike, Lee Garner Jr., hijacks the show.
Owned by Unilever (UL), Pond's is not the conglomerate's first brand to appear on Mad Men, as Popsicle made an appearance in season two. While Pond's is still sold today, it's no longer the blockbuster beauty regimen it was for our mothers, so it's unclear why Unilever would pay for its placement.
And it most likely didn't, at least not directly -- Unilever said that AMC approached the company about featuring Pond's, but Unilever did not have a preview of its final appearance before the general public. The company doesn't disclose the contract details of that type of product appearance, paid or unpaid.
But during a commercial break in this week's episode, a faux Sterling Cooper set emerged, complete with an ersatz Don Draper and Joan Holloway. The executives sat around a conference table discussing Dove, another Unilever product.
Unilever tells Fortune that it's paying to sponsor six different vignette placements in thirteen ad spots across the season. Viewers saw the first of these scenes this week in a presumed effort to thwart DVR-owners fast-forwarding through more conventional ads. Keep an eye out for Breyers, Hellmann's, Klondike, Suave, and Vaseline vignettes in the future.
As for whether or not any other Unilever products end up soliciting business from Sterling Cooper Draper Pryce, we'll just have to wait and see.