RIM unveils new BlackBerry Torch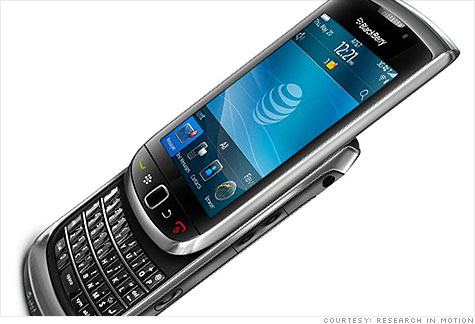 NEW YORK (CNNMoney.com) -- Research In Motion unveiled the much-hyped BlackBerry Torch 9800 on Tuesday, a new touch-screen BlackBerry smartphone with a pull-out keyboard and a significantly updated operating system that is designed to compete with the likes of the iPhone and Android smartphones.
The new phone will hit U.S. stores August 12 and will be priced at $199.99 for customers who purchase a two-year service agreement. RIM said the Torch will be available to international customers "in the months ahead."
AT&T (T, Fortune 500) will be the exclusive carrier of the Torch 9800, the first BlackBerry to run RIM's modernized operating system, BlackBerry OS 6. The new operating system gives BlackBerry its first full Web browser, as well as other features that are common on most of today's smartphones like social networking integration, universal search and multiple home screens.
The new phone also includes a 5 megapixel camera, built-in GPS, and video recording at up to 640x480 resolution. RIM estimates that the phone's battery charge will last for 5.8 hours of talk time on 3G networks. (Follow Fortune.com's live blog of the BlackBerry launch.)
Like the iPhone, the BlackBerry Torch will be covered by AT&T's metered data plans. The less-expensive DataPlus plan allows 200 MB of data each month for $15, with the pricier DataPro offering 2 GB of data for $25.
The Torch is RIM's (RIMM) first attempt at a combination touch-screen/physical keyboard hybrid, and looks somewhat like the Palm Pre. Verizon Wireless' (VZ, Fortune 500) BlackBerry Storm and subsequent Storm 2 were RIM's preliminary tries at a touch-screen, but without a physical keyboard, they never appealed to RIM's core customers and failed to live up to the "iPhone killer" hype.
With the Torch 9800, RIM hopes it has a phone that will appeal to both its dedicated corporate customers as well as fickle consumers that are constantly in search of the new best thing.
The Torch allows users to preview e-mails, appointments, texts and social network updates in one location. The phone has a much-improved media experience with Wi-Fi music synchronization, a new podcast app and an easy-to-manage photo gallery with a pretty neat two-finger tap function for selecting multiple images. Social media is easier too, with a feed that integrates Twitter, Facebook and other sources.
The phone's 624 Mhz processor is fast compared to previous BlackBerry devices, but not compared to the 1 Ghz speeds available in other $200 smartphones like the iPhone 4, HTC Evo and Motorola Droid X. No new third-party apps for the Torch stood out at RIM's unveiling of the device, but the company said it has made the app development process much easier, which should help it compete with bolder and richer app selections on the iPhone and Android app stores.
In all, the Torch is certainly the best BlackBerry available and a marked improvement over previous versions, but it's more of a catch-up device than a leap forward compared to its smartphone competitors.
"If you like BlackBerry, you'll look at this design and think it's a nice upgrade, but it's not going to convince anyone that's looking for an iPhone to change their minds," said Ken Dulaney, analyst at Gartner. "The Torch is a market-holder rather than a market-expander."
BlackBerry has been able to make significant inroads with consumers in past years with low-priced models like the Pearl and Curve. For users who text a lot -- especially teens -- the BlackBerry keyboard is a hit, as is the BlackBerry Messaging service.
Still, the momentum has shifted in the mobile world towards Apple and Google. Despite BlackBerry's commanding lead in the smartphone market, with double the market share of the nearest competitor, Apple (AAPL, Fortune 500), BlackBerry's growth has stalled in recent quarters.
Apple and Google had bested RIM's devices in terms of ease of use, availability of third-party applications, touch-screen technology and Web browsing capabilities -- to name just a few critical smartphone components. Plus, newer iPhones and Android phones offer secure Microsoft Exchange Server e-mail and calendar support -- the hallmark of RIM's devices.
The good news for RIM is that more than half of its business comes from the slow-to-change enterprise space. Though some are starting to dabble in iPhones and Android phones, BlackBerry remains the corporate smartphone brand.
Shares of RIM ended Tuesday down 2%, $55.53. The stock rose nearly 3% immediately following the announcement and then quickly fell into negative territory.