The end of volatility? Not by a long shot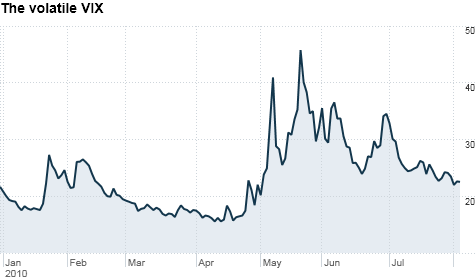 NEW YORK (CNNMoney.com) -- Be not afraid, investors. For now at least.
A sense of calm seems to be descending over the markets lately. Stocks surged in July and soared again on Monday, the first trading day of August.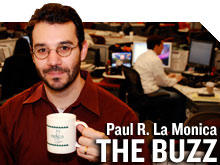 As stocks have marched higher, an index widely cited as Wall Street's fear gauge, the CBOE Volatility Index or VIX, has steadily fallen as well. The VIX is currently hovering around 22.50, its lowest level since early May.
But anyone concluding that the drop in the VIX means that investors are no longer fearful could be in for a rude awakening. All that the VIX is telling us is that investors aren't afraid right now. It's not, however, a good measure of future investor agita.
Consider this: when the VIX was last this close to 20, it was back on Monday, May 3. Just three days after that on May 6, we were hit with the mother of all fearful market panics. The Flash Crash, as it has since come to be known, wiped out about 1000 points off the Dow in a matter of minutes before recovering a bit.
And what did the VIX do that day? It surged 32% to about 33 and tacked on another 25% the next day to finish Friday May 7 at just under 41. So the VIX more than doubled in one single week, proof that the index is not something that can be relied upon to make any bets about the future.
Of course, the Flash Crash is a (hopefully) unique circumstance that nobody could have predicted. But it does illustrate the shortcomings of the VIX, a measure of volatility that, by its very nature, also inherently volatile.
"The VIX can change quickly in the course of a day, especially in a traders market where any scintilla of a rumor is moving things," said Quincy Krosby, market strategist with Prudential Financial in Newark, N.J. "The VIX is very much the focus of a particular day."
In fact, some experts said the pullback in the VIX might actually be a reason to worry. It could be a sign of complacency.
"The lower the VIX goes, the more people are unprepared for the next decline," said Craig Peskin, co-head of technical research with Concept Capital in New York. "It's a sign of people being a lot more enthusiastic. The market perhaps has come too far too fast."
It does seem a bit curious that investors, who only a few months ago were obsessed with the fiscal problems with Europe's PIIGS, no longer seem that worried about other potential debt-related shoes to drop.
"What we've seen for the last year are waves of volatility. Things get excitable, things calm down and then things happen again," said George Feiger, CEO of Contango Capital Advisors in San Francisco. "There are lots of potential sources of negative news for years. Nobody can predict what the next bad thing will be but I'm certain there will be another."
It's also worth noting that any stock market moves in the lazy hazy days of early August have to be taken with a billion grains of salt. Most major companies have already reported earnings, trading volume is light and Congress is soon set to go on summer recess.
Krosby points out that September is historically a tough month for stocks.
So it would not be a major surprise to see volatility return once traders are back from the beach and the news cycle picks up. Others agree.
"It's premature to say that the volatility is over," said Liz Ann Sonders, chief investment strategist with Charles Schwab & Co. in New York. "Every time that you think that maybe the market is reacting to better earnings and reasonable valuations, those unfortunately have tended to be signs of short-term tops."
This does not mean that the market is doomed for another massive sell-off. What's more, the VIX can be a useful measure. But it is much more valuable for traders to focus on in the heat of the moment.
If you're a long-term, buy-and-hold investor (there are still some of you left, right?) treat the VIX the way you do the weather. Just because it's sunny today, that doesn't mean you may not have to bring an umbrella to work tomorrow.
- The opinions expressed in this commentary are solely those of Paul R. La Monica. Other than Time Warner, the parent of CNNMoney.com, La Monica does not own positions in any individual stocks.