Travel industry roars back to life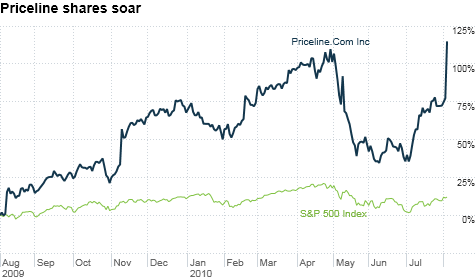 NEW YORK (CNNMoney.com) -- Shares of Priceline were up more than 20% Wednesday after the "Name Your Own Price" travel site announced earnings that blew away analyst expectations.
The travel site - famous for its corny William Shatner ads - reported second quarter earnings Tuesday afternoon of $158 million, or $3.09 per share, compared with the $136.3 million, or $2.65 per share, that analysts were expecting.
Driven by higher travel demand and improving room rates, international travel bookings increased by 59% compared to the year-ago quarter, the company said. Priceline (PCLN) has been building up its presence in the European market through hotel reservations on its Booking.com site.
The company's U.S. travel bookings also rose -- to the tune of 20% -- thanks mainly to more hotel reservations.
That strong performance comes just three months after Priceline warned investors that an erupting Icelandic volcano and declining euro would eat into its profits for the quarter.
But international demand rebounded following that disruption, and analysts expect that momentum to continue.
Priceline focuses a large chunk of its business in Europe and Asia, where the online travel market has ample room to grow. Only 37% of travel bookings in Europe are made online, while only 18% are booked through the web in Asia. That compares to 56% in the United States.
"Priceline continues to grow through geographic expansion and we believe it is very well positioned in emerging markets," said Stifel Nicolaus analyst George Askew.
That strategy, he added, puts Priceline "at a significant competitive advantage" over its competitors, particularly Expedia and Orbitz.
But since the travel industry is sensitive to economic conditions, additional weakness in Europe or a possible double-dip recession in the United States could hamper the company's growth, Askew said.
Still, recent, strong financial results from others in the travel industry overall seem to fly in the face of economic reports that paint a picture of a slowing economic recovery.
In fact, while overall retail sales were tepid in July, especially on discretionary purchases, the travel sector is one area that is attracting consumer dollars, according to a report from MasterCard Advisors' SpendingPulse data service.
Spending on airlines, hotels and rental cars increased in July from a year ago, when the summer travel season was dominated by staycations, said Michael McNamara, vice president of research and analysis for SpendingPulse.
On Monday, Moody's Investors Service said it is considering upgrading the credit ratings of online travel company Expedia (EXPE), thanks to forecasts for growth in the travel industry and Expedia's strong financial results during the recession. Expedia said last week that its second-quarter earnings nearly tripled compared to last year, as consumers revved up their travel spending.
Expedia's stock rose nearly 6% in early afternoon trading Wednesday as well.
Also last week, hotel company Wyndham Worldwide (WYN) raised its earnings forecast for its next quarter. The company's quarterly income rose 34% from last year thanks to improved performance from its vacation-home business, gains from exchange rates and lower taxes.
Travel site Orbitz (OWW) plans to announce its second-quarter results early Thursday. The company's stock was up more than 7% Wednesday afternoon.