USPS posts $3.5 billion loss as mail volume plunges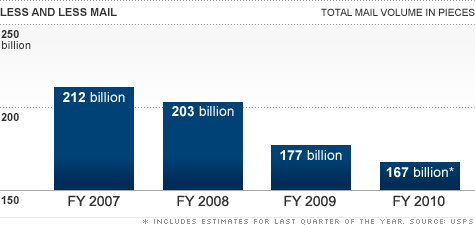 NEW YORK (CNNMoney.com) -- The U.S. Postal Service reported a $3.5 billion loss in its most recent quarter Thursday, as mail volume plummets and retiree health care costs mount.
The USPS, a self-supporting government agency that receives no tax dollars, said operating revenue declined 1.8% to $16 billion during the fiscal 2010 third quarter compared to a year earlier, while operating expenses spiked 4.2% to $19.5 billion.
The quarterly loss was the fourteenth in the last sixteen quarters, the postal service said.
"A significant portion of USPS losses in the past few years has been due to an unprecedented decline in mail volume -- down more than 20% since 2007," the USPS said in a statement. "The replacement of letter mail and business-transaction mail by electronic alternatives continues to cause downward pressure on mail volume."
During the third quarter alone, mail volume slipped 1.7% to 40.9 billion pieces. The USPS, which relies solely on the sale of postage-related products and services to generate revenue, has projected that total mail volume will fall more than 5% on an annual basis for the 2010 fiscal year, which ends September 30.
Making the problem worse is a federal law passed in 2006 that requires the Post Office to pay between $5.4 and $5.8 billion into its prepaid retiree health benefits each year. USPS chief financial officer Joseph Corbett said making the $5.5 billion payment that's due to the retiree fund Sept. 30 will threaten the agency's cash flow for the next fiscal year.
"Given current trends, we will not be able to pay all 2011 obligations," Corbett said. "Despite ongoing aggressive cost reductions totaling over $10 billion in the last three years, it is clear that a liquidity problem is looming and must be addressed through fundamental changes requiring legislation and changes to contracts."
Among the cost-cutting initiatives, the USPS has reduced total work hours by 63 million -- equivalent to 36,000 full-time employees -- this year to match lower mail volume.
Still, the agency has lost a total of $5.4 billion so far in 2010, 13% more than what the cash-strapped agency lost during the first three quarter of fiscal 2009.
Earlier this year, the USPS estimated that it will incur about $238 billion in losses in the next 10 years if Congress doesn't permit it to revamp its outdated business model.
"Securing the fiscal stability of the Postal Service will require continued efforts in all of these areas, as well as further review of retiree health benefit prefunding," said postmaster general John Potter.
"It also will require that the Postal Service gain flexibility within the law to move toward five-day delivery, to adjust our network as needed, to develop new products the market demands, and to work with our unions to meet the challenges ahead," he added.