Detroit's class act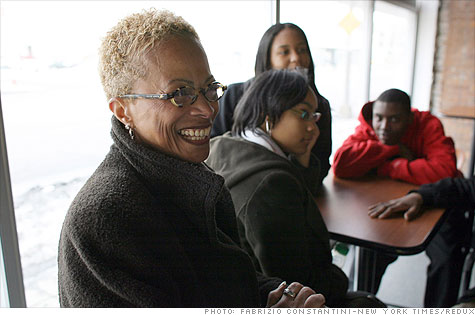 FORTUNE -- Can a cause seem so lost that not even many philanthropists feel charitable toward it? Detroit's schools have been that kind of hard case. In recent years public schools in such cities as New York, Chicago, and New Orleans have enjoyed major infusions of cash from charities like the Bill & Melinda Gates Foundation. But that never happened in Detroit, whose school system is so far gone that barely 3% of its fourth-graders meet national math standards. "Between the destruction of the auto and manufacturing industries, massive blight, and political problems, the philanthropic view is that there's been no basement to build on in Detroit," says Rick Hess, director of education policy studies at the American Enterprise Institute, the conservative think tank.
If Detroit schools have a last best friend, it's Carol Goss. The charity she heads, Detroit's Skillman Foundation, a $457 million fund based on the fortune of 3M adhesives pioneer Robert Skillman and his wife, Rose, devotes the majority of its giving to one cause: the children of Detroit. And Goss, 62, realized they were suffering because of infighting among the grownups: teachers resistant to change, politicians battling over conventional vs. charter schools, parents protesting the closing of failed programs. The dysfunction became so bad that a few years ago Detroit refused a rare offer from a philanthropist to donate $200 million to build charter schools across the city.
Goss's moment of leverage came after Michigan's governor seized control of Detroit's school system in 2008 and appointed an emergency financial manager, Robert Bobb, who has been unsparing in reform and rhetoric, calling the schools "academically bankrupt" and "unlike anything I've ever experienced." As Bobb went to work on the system's $219 million deficit and deep-seated corruption, Goss brought the warring political parties together in an exhaustive series of town hall meetings in which she used the lure of a $200 million fundraising infusion to get people to agree on higher standards and bolder actions. The resulting coalition, called Excellent Schools Detroit, aims to boost the city's high school graduation rate from an abysmal 60% currently to 90% within a decade. The plan: 40 new schools will be opened by 2015, without prejudice toward one kind or another -- public, charter, or private. Schools will get report cards. Teachers and principals will be recruited from outside Detroit for new ideas. "We can make sure that education takes root in Detroit," Goss says, "no matter where kids go to school."
Goss has the money and credibility to win people over. Her foundation has helped hold together Detroit's schools when few others would. Goss grew up on Detroit's southwest side, her father a city maintenance worker and her mother a nursing assistant, back when the city's neighborhoods had a more nurturing quality. "Today," she says, "there are so many children who don't have that." Trained as a social worker, Goss switched to philanthropy when she joined Michigan's W.K. Kellogg Foundation. Now a grandmother of three and a long-distance runner, Goss is known as tireless and immune to negativity. Her nickname among friends: "Goody," one told the Detroit Free Press.
Goss now has to recruit more believers, ones with money and influence. "Detroit is ready for investment," she says. Goss wants Detroit's business community to get more involved, since its workforce depends on it. "There are a number of people who will not be prepared to participate in the future economy," she says, "unless we are very intentional about helping them to be ready for that." And she needs national foundations to join her cause to raise the $200 million down payment (her foundation's share hasn't been determined). One encouraging sign: Goss persuaded a national association of donors, the Philanthropy Roundtable, to bring one of its conferences to the Motor City last March. The group's president, Adam Meyerson, admits, "We never considered Detroit." If nothing else, Goss has made headway in transforming Detroit's image from lost cause to a worthy one.