HP chief Hurd quits after sexual harassment claim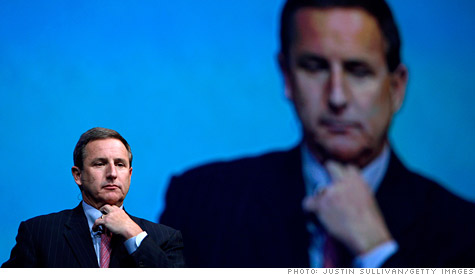 (FORTUNE) -- Hewlett-Packard chief executive officer Mark Hurd, one of the highest-profile CEOs in America, resigned Friday following a sexual harassment claim against him and the company.
HP said an investigation found Hurd didn't violate its sexual harassment policy. But he did violate its standards of conduct policy, the company said.
HP (HPQ, Fortune 500) shares were down more than 9% in after-hours trading following a slight decline in regular action.
Executives said Hurd, who is married, failed to tell the board about a personal relationship with a female marketing contractor who was hired by his office. He repeatedly filed inaccurate expense account reports in a bid to keep the relationship secret, HP said.
"It was about integrity and honesty," general counsel Michael Holston said on a conference call with analysts and investors.
Hurd conceded in the HP press release that "there were instances in which I did not live up to the standards and principles of trust, respect and integrity that I have espoused at HP," Hurd said.
The Palo Alto, Calif., company said its chief financial officer, Cathie Lesjak, will take over as CEO on an interim basis.
HP will search for a new CEO and will consider candidates from within the company as well as outsiders, the company said. It didn't give a timeline, but said Lesjak wouldn't take the full-time CEO job.
Hurd has been credited with reviving Hewlett-Packard since joining the company in 2005 following the tumultuous tenure of his predecessor, Carly Fiorina. Hewlett-Packard shares have more than doubled since he took the reins in April 2005.
Hurd has been held in high regard on Wall Street. He has been extremely successful in helping to boost the company's profit margins.
To allay fears that his departure was financially driven, HP also said in the release announcing Hurd's resignation that it expected to exceed analysts' earnings expectations for the fiscal year.
Asked about the timing of that statement, Lesjak said on a conference call with reporters said it was "important for people to fully appreciate the announcement today has nothing to do with the operational performance of the company." She added that the resignation was "all about Mark's behavior and judgment."
HP said the investigation started June 30, a day after the company received a letter from a lawyer representing a marketing contractor employed by the company. The company said the investigation found a "pattern" of expense account improprieties by Hurd, but wouldn't offer more detail except to say the amounts weren't material.
That's not surprising, given that HP bills itself as the world's biggest information technology company, with fiscal 2009 revenue of $115 billion.
HP said it entered a legal agreement with Hurd "related to his exit." It didn't say whether this agreement would preclude litigation with him.
Hurd, who has been making upwards of $30 million annually, could collect $53 million in severance pay, stock and restricted units under his separation plan with the company, HP said in its most recent proxy filing.