Treasurys rise after Fed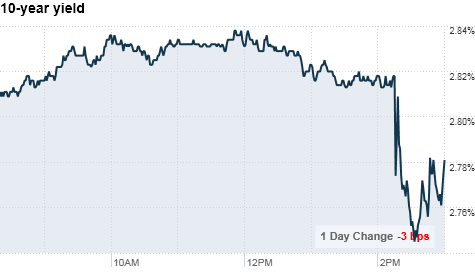 NEW YORK (CNNMoney.com) -- Prices for U.S. Treasurys gained Tuesday after the Federal Reserve announced plans to reinvest in the market and issued a cautious economic outlook.
What prices are doing: The benchmark 10-year note gained 18/32 to 106-8/32, and its yield fell to 2.77% from 2.84% late Friday. Bond prices and yields move in opposite directions.
The 30-year bond was up 4/32 to 106-8/32 and its yield was 4.01%.
The 2-year note edged up 1/32 to 100-6/32 with a yield of 0.53%, while the 5-year note rose 12/32 to trade at 101-14/32 and yielded 1.45%.
What's moving the market: The Federal Reserve announced plans to reinvest principle payments from the central bank's holdings of mortgage-backed securities and other assets into longer-term Treasurys.
The move is part of a plan to support the economic recovery while maintaining the current size of the Fed's balance sheet, the central bank said in a policy statement.
The Fed said it expects to begin buying Treasurys under this policy on or around August 17. It will release the first tentative schedule of purchase operations Wednesday and will continue to publish schedules each month going forward.
The size of the purchase operations will be calibrated to match the amount of principle payments the Fed collects on its holdings of other securities.
As of last week, the Fed had over $2 trillion worth of domestic securities on its balance sheet. The Fed said it will seek to maintain that level as it reinvests in the Treasury market.
The size of the purchase operations will be calibrated to match the amount of principle payments the Fed collects on its holdings of other securities. The Fed said it will focus on buying 2- to 10-year Treasurys, although it could buy a variety of maturities as well as Treasury Inflation Protected Securities.
In addition, the Fed issued its most bearish economic outlook in more than a year and reiterated that short-term interest rates will remain "exceptionally low" for an extended period of time, as expected.
"The pace of recovery in output and employment has slowed in recent months," the Fed said in its statement. While the Fed still expects the economy to grow, the improvement will be "more modest in the near term than had been anticipated."
Meanwhile, demand was strong at Tuesday's auction of 3-year Treasury notes.
Investors submitted bids totaling $112 billion in response to the $34 billion worth of notes offered. The bid-to-cover ratio, a measure of demand, was 3.31, up from 3.2 at the last 3-year auction in July.
However, the market will also have to take down auctions of longer-term Treasurys later this week. The U.S. will offer $24 billion in 10-year notes Wednesday and $16 billion in 30-year bonds Thursday.
What analysts are saying: "The key take away is that Fed is keenly aware of the current economic situation and is both ready and willing to act aggressively," said Chris Molumphy, chief investment officer of fixed income at Franklin Templeton.
Molumphy said investors welcomed the decision to reinvest proceeds from maturing assets into Treasurys, which he said was not a complete surprise. But the long-term response remains to be seen, he added.
Paul Ashworth, senior U.S. economist at Capital Economics, said in an e-mail message that the move was "largely a symbolic gesture, designed to reassure the markets rather than boost the economy."
He said the Fed's holdings of mortgage-backed securities are not scheduled to mature for at least another 10 years, while its much smaller portfolio of agency debt matures at an even pace over the next decade.
Reinvesting the proceeds from these assets could amount to roughly $100 billion a year, according to Ashworth's estimates. At that level, the move will have "little impact" on economic growth, he added.
"We're skeptical that this switch indicates the Fed would now be willing to go further and restart its asset purchase program unless the economic outlook deteriorates markedly from where we are now," Ashworth said.
The Fed bought billions worth of Treasurys two years ago to help keep long-term interest rates low and stimulate the economy. Some analysts had expected the Fed to unveil plans to resume outright purchases of U.S. debt, a policy called quantitative easing, in response to recent signs the economic recovery has slowed.