Netflix shares rise 6% on Epix deal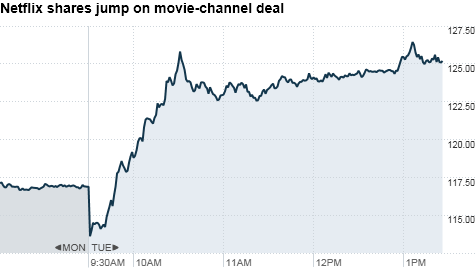 NEW YORK (CNNMoney.com) -- Shares of Netflix surged more than 6% Tuesday, after the company announced an agreement with pay-cable movie channel Epix to stream films online from three major movie studios.
The deal gives Netflix (NFLX) exclusive rights to both new releases and older films from Paramount, Lionsgate and MGM on its site 90 days after Epix first debuts the films to its premium pay and on-demand TV subscribers. Netflix members will get access to the films starting Sept. 1.
Netflix shares rose 6.6% to $124.41 in midday trading. The stock has been on a tear this year, crossing $100 for the first time back April after the company reported a phenomenal first quarter. Its second quarter wasn't as fantastic but investors still like the stock, sending shares up 19% just in the past 5 days.
The deal significantly expands Netflix's online content, as competitors like Coinstar's (CSTR) Redbox and Wal-Mart (WMT, Fortune 500) also look to add streaming services down the road, and HBO, Hulu and Apple's (AAPL, Fortune 500) iTunes build their online content.
"The Epix deal is an example of the innovative ways in which we're partnering with major content providers to broaden the scope and freshness of choices available to our members to watch instantly over the Internet," said Netflix chief content officer Ted Sarandos, in a statement.
The 5-year deal is expected to bring Epix about $1 billion in licensing fees, according to published reports. Lionsgate Chief Executive Jon Feltheimer wouldn't confirm exact numbers Tuesday, but in a call with investors he said the reported figure was in the "ball park."
Lionsgate (LGF), Paramount's parent company Viacom (VIA) and Metro-Goldwyn-Mayer Studios (MGM, Fortune 500) launched Epix in 2009. Cable and satellite providers Cox Communications, Dish Network, Mediacom and Verizon FiOS currently offer the start-up channel.