Cisco profit up 79%, but sales disappoint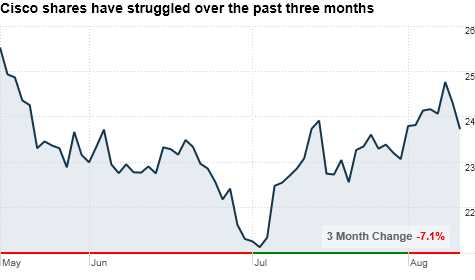 NEW YORK (CNNMoney.com) -- Cisco Systems Inc. posted a 79% jump in quarterly profit Wednesday, but the tech bellwether's revenue missed Wall Street's expectations. The company's sales outlook was also a slight disappointment and the stock plunged on the news.
The network equipment maker posted net income of $1.9 billion, or 33 cents a share, in the fiscal fourth quarter, up 79% compared with $1.1 billion a year ago.
Excluding one-time items, Cisco reported earnings per share of 43 cents, beating the 42 cents per share analysts polled by Thomson Reuters had forecast.
The San Jose, Calif.-based company said sales rose 27% in the quarter to $10.84 billion. Analysts had estimated revenue of $10.88 billion.
Looking forward, Cisco said it expects revenue to rise between 18% and 20% in the current quarter from a year ago. That's a bit lower than the increase of 21% analysts were expecting in the quarter.
Shares of Cisco (CSCO, Fortune 500) fell more than 9% in early morning trading Thursday. Even though the company is reporting healthy results, renewed fears of a slowdown in the global economy are taking their toll.
"Whether the global economy continues to show mixed signals or not -- the strength of our financial model and profit generation serves us well," said Cisco CEO John Chambers in a prepared statement.
Cisco said it generated $3.2 in cash from operations during the quarter, up from $3 billion in the previous quarter and $2 billion in the fourth quarter a year ago.
Globally, the company posted double-digit orders growth in 13 of its 15 top-performing countries and said emerging markets orders were up 35% while orders in Asia, the United States and Canada all rose 20%. Even in Europe, orders jumped more than 20%.
Cisco said it hired about 2,000 employees in the fourth quarter and plans to hire another 3,000 employees in "the next several quarters."
Meanwhile, the company said it expects a gross margin of about 64% in the first quarter, slightly lower than the 64.8% analysts were expecting.
Fiscal year results: For the full fiscal year, Cisco said net income rose 27% to $7.8 billion, or $1.33 a share, from $6.1 billion last year. Excluding one-time items, the company posted earnings per share of $1.61, up 19% from a year ago.
Sales rose 11% year-over-year to $40 billion, compared to $36.1 billion last year.
Chambers emphasized that while he is confident in Cisco's ability to continue to grow, concerns such as job creation and GDP growth still lurk and that the economy has been sending "mixed signals" to Cisco's customers.
"We feel we are extremely well positioned," Chambers said in a post-earnings call with investors. "However, balancing this strong optimism, there are some challenges that are contributing to an unusual amount of conservatism and even caution."
Ronald Gruia, a principal telecom analyst at Frost & Sullivan, said it was likely the economic turbulence and uncertainty that caused the company to be cautious when giving its guidance for the current quarter.
"For a company as well-managed as Cisco not to do as well as expected could be an indicator that the economy still isn't out of the woods," said Gruia. "Investors wanted reassurance, and they didn't get that today."
But that doesn't mean Cisco is doomed going forward, Gruia cautioned.
"In troubling times, Cisco has had good [operating expense control] and good discipline, so I expect them to withstand the storm pretty well," said Gruia.
Because Cisco is one of the world's biggest technology companies and provides services for large corporations, its results are looked at closely as a barometer for global tech spending.