Treasurys retreat as stocks firm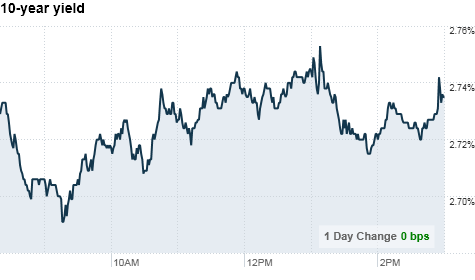 NEW YORK (CNNMoney.com) -- Treasurys fell Thursday as the government completed the last of three auctions this week totaling $74 billion and a recovery in the stock market undermined demand for the safety of U.S. debt.
"We had a large swing in the equity market and the Treasury market is waning a bit," said Dan Greenhaus, chief economic and bond strategist at Miller, Tabak and Co.
As prices fell, the yield on the 10-year rose to 2.75% from 2.62% late Wednesday. The yield on the 2-year note rose to 0.55% after falling to record low in the previous session.
The yield on the 30-year bond rose to 3.95% after the government sold $16 billion worth of the securities. The median yield at Wednesday's auction was 3.89%.
Investors submitted bids totaling $44.2 billion in response to the 30-year offering. The bid-to-cover ratio, a measure of demand, was 2.77, down from 2.89 at the last 30-year auction in July.
Indirect bidders, a category that includes overseas central banks, bought 45% of the 30-year bonds sold.
Demand at Wednesday's $24 billion sale of 10-year notes was strong, with an auction yield of 2.73%, the lowest since January 2009. That came after a well-received auction of $34 billion in 3-year notes on Tuesday.
Investors had flocked to the safety of U.S. debt on Wednesday as stock markets around the world plunged on worries about a global economic slowdown. The yield on the 2-year note fell to an all-time low of 0.52%, while the 10-year yield dropped to a fresh 15-month low of 2.68%.
Earlier this week, the Federal Reserve issued a cautious outlook for the economy and announced plans to reinvest proceeds from its portfolio of mortgage-backed assets into the Treasury market.