Border security push will boost 1,500 jobs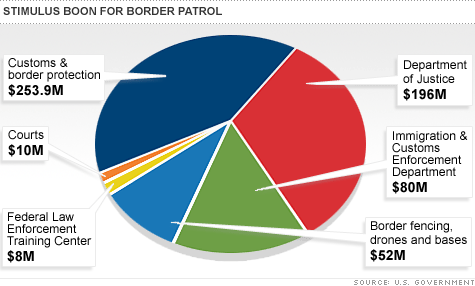 NEW YORK (CNNMoney.com) -- The bill signed Friday by President Obama providing $600 million to help secure the U.S.-Mexico border will add 1,500 government jobs and give a modest boost to the hard-hit regional economy.
The money will fund the hiring of 1,000 additional Border Patrol agents in the Southwest, as well as 250 Customs and Border Protection officers. The bill will also maintain the employment of 270 officers already deployed along the border.
Much of the funding is allocated for "salaries and expenses" for various federal departments, including $253.9 million for the Customers and Border Protection, $80 million for Immigration and Customs Enforcement and $8.1 million for the Federal Law Enforcement Training Center.
An additional $196 million slated for the Department of Justice will fund salaries for the U.S. Marshals, the Federal Bureau of Investigation, U.S. prosecutors, the Bureau of Alcohol, Tobacco, Firearms and Explosives and the Federal Prison System, among other things.
"[The bill] helps to absorb a small fraction of the extraordinary large number of unemployed Americans," said Moody's chief economist John Lonski. "That comes in handy, given that cash-strapped states and local governments have been forced to cut back on payrolls. Recently unemployed police officers and public works employees might find new jobs in this program."
The bill also provides $14 million for the construction of security fencing along the border and the implementation of a tactical communications system. Another provision is $32 million for two unmanned surveillance aircraft drones and $6 million for the building of two forward operating bases.
Lonski said the relatively modest construction funding could go a long way in hard-hit construction zones like Arizona.
Despite this surge in funding, Lawrence Mishel, president of the Economic Policy Institute, was skeptical as to how much help the bill would provide to the regional economy, considering the bill pales in comparison to last year's massive Recovery Act stimulus package.
"It is not much money and would, at best, only create a few thousand jobs," he said.
Most of the bill's funding -- some $550 million -- would be raised, over a five-year period, by increasing the cost of visas permitting non-U.S. workers to work here. Mishel said this practice could dampen the impact that the bill would have on bolstering the economy.
"Because it is paid for, it doesn't really expand expenditure or demand, in the economy," said Mishel. "The spending does increase demand, but the visa fees diminish demand."