IBM snaps up analytics firm for whopping 120% premium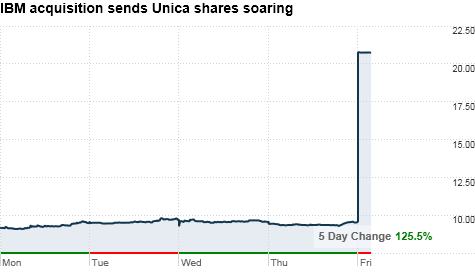 NEW YORK (CNNMoney.com) -- IBM agreed Friday to purchase software firm Unica for $480 million, offering a giant premium for the marketing analytics company.
In the all-cash transaction, Big Blue will pay $21 per share of Unica. That's a 120% boost on the stock's Thursday closing price of $9.55. Shares of Unica (UNCA) leapt $11.21 to $20.76 Friday morning, while IBM (IBM, Fortune 500) shares were mostly unchanged.
IBM said it bought Unica to add more personalized marketing services to its arsenal. Unica, based in Waltham, Mass., helps customers develop targeted campaigns, using analytics software that predicts customer preferences and behavior. The company has an impressive customer list that's 1,500 clients long, including Best Buy (BBY, Fortune 500), eBay (EBAY, Fortune 500), Monster (MWW), and US Cellular.
Though the deal sounds expensive, IBM has a pretty solid track record of making its purchases profitable. IBM plans to integrate Unica's 500 employees into its solutions and analytics team of 5,000 staff members.
The acquisition is part of IBM's plan to spend $20 billion on buying up companies through 2015. IBM said the Unica deal compliments two recent analytics firm acquisitions in the past few months, CoreMetrics and Sterling Commerce.
IBM has a habit of snapping up niche software makers to extend its deep software and services portfolio. With analytics firms like Unica, IBM can make a play at customers who would typically have gone to business software giant Oracle (ORCL, Fortune 500) or Hewlett-Packard's (HPQ, Fortune 500) EDS in years past.