Epic smackdown looms in Google vs. Oracle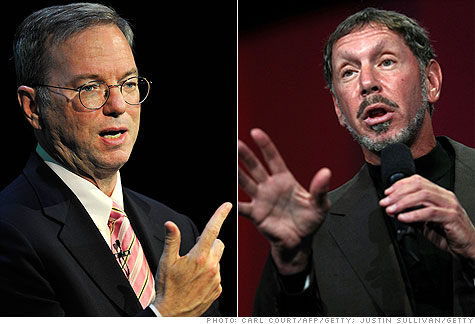 NEW YORK (CNNMoney.com) -- Stuck between maintaining an unsettling status quo or causing a damaging but potentially lucrative ruckus, Oracle is going for the ruckus.
The enterprise software giant roiled Silicon Valley late Thursday evening by filing a lawsuit against Google over Java patent violations. Oracle (ORCL, Fortune 500) said Google's Android mobile operating system infringes on the intellectual property that Oracle acquired in its January purchase of Sun Microsystems. Google uses the Sun-developed Java software platform as part of its Android platform, which Oracle says violates seven of the patents it now owns.
Here's where it gets really confusing: Both Java and Android are open-source platforms. Neither Google nor Oracle make any money from their open-source software creations. Their source code is available for free, and any developer can essentially do they want with it.
That's exactly what Google (GOOG, Fortune 500) did. Rather than license the more sophisticated version of Java from Sun and Oracle that's designed for smartphones, Google essentially created a workaround using the free Java version. Google developed its own Java virtual machine -- software that runs Java-based applications -- for the Android operating system now used on millions of smartphones.
There is plenty of precedent for what Google did. In fact, the personal computer market exploded that way. In the '80s and '90s, a slew of "IBM compatible" PCs were developed by companies that reverse-engineered hardware to make computers that were able to run programs from IBM, and eventually Microsoft.
But that's not to say that Oracle's case is meritless. The company may be able to prove that Google violated its patents, despite Google's methods of circumventing Java's licenses: Oracle spokeswoman Karen Tillman claimed that Google's staff "knowingly, directly and repeatedly" violated the patents.
Google CEO Eric Schmidt is certainly someone who is familiar with those patents: Schmidt led Java's development when he was chief technology officer at Sun Microsystems in the 1980s and '90s.
In response to Oracle's lawsuit, Google said it will fight to defend open-source standards and continue to develop its Android platform as the lawsuit is ongoing.
"We are disappointed Oracle has chosen to attack both Google and the open-source Java community with this baseless lawsuit," Google spokesman Aaron Zamost said in an e-mailed statement. "The open-source Java community goes beyond any one corporation and works every day to make the Web a better place."
The fight is just the latest in a sea of ongoing, incredibly complex Silicon Valley intellectual property disputes. But with both companies producing open-source platforms, this is one is especially complicated.
"Java is used by everybody as a tool for development ... and this is a case of one big, hairy open-source platform tapping into another open-source platform," said Michael Grossi, director of tech industry consultancy Altman Vilandrie & Co. "If this case doesn't get settled, it's going to take a long time in the courts and will continue to go back and forth."
Even patent suits that are seemingly much simpler take years to get resolved. Unix maker SCO recently lost a seven-year patent battle against IBM (IBM, Fortune 500) and Novell (NOVL) over the way they used Unix in open-source Linux development.
The question for Oracle is, why sue Google? The answer likely lies in a little game theory -- something Oracle CEO Larry Ellison famously enjoys.
With Java, Oracle is faced with three unpleasant outcomes: It could do nothing and watch Google reap the rewards of developing the fastest-growing mobile platform for the blazing-hot smartphone market.
It could sue Google and lose. That would signal other developers that it's open season on circumventing Java's licenses.
Or it could sue Google and win. That would send a message that Java isn't as open as previously believed. Oracle didn't say what it is seeking in damages, but it would likely require Google to pay lucrative licensing fees on each Android phone and application sold.
"Oracle is damned if they do and damned if they don't, so it figured it might as well do and try to get paid," said Mark Driver, analyst at Gartner. "There's just tons and tons of potential money in this. But it's bad news for Java regardless of the outcome."
Android has been an almost instantaneous success, becoming the third highest-selling operating system in the world in less than three years, according to Gartner. Smartphones running Android outsold Apple's (AAPL, Fortune 500) iPhone in the second quarter, and were just barely edged out by Research In Motion's (RIMM) BlackBerry devices.