Lowe's shares rally after results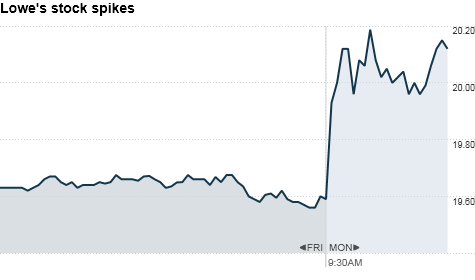 NEW YORK (CNNMoney.com) -- Lowe's Cos. shares gained 3.5% in early trading Monday after the home improvement retailer posted higher fiscal second-quarter profit and revenue - although the company missed forecasts and lowered its outlook.
Lowe's (LOW, Fortune 500) reported a profit of $832 million, or 58 cents per share, for the quarter ended July 30. That was below the 59 cents per share analysts were forecasting, but was up 9.6% from $759 million, or 51 cents a share, a year earlier, thanks to cost-cutting measures.
Sales for the quarter rose 3.7% to $14.4 billion from $13.8 billion a year earlier. Analysts were expecting revenue to jump 5% to $14.5 billion.
"The stock should benefit from a sigh of relief that it could have been worse, but risk still remains as the macro recovery remains elusive," said David Strasser, analyst at Janney Capital Markets, in a research note.
Lowe's also gave a more cautious outlook for the year.
"Longer term, we believe improvements in labor and housing markets will be necessary to support more consistent improvement in demand for home improvement products," said Robert A. Niblock, Lowe's chairman and chief executive.
Lowe's is anticipating earnings per share of up to $1.45 for the fiscal year ending in January, down from $1.47 it previously projected.
Total sales are expected to increase about 4%, a drop from the 5% to 7% increase the company said it was expecting at the end of the first quarter.
Lowe's stock was up 61 cents to $20.20 in early trading.