Education stocks get an F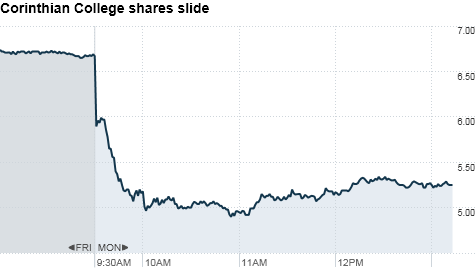 NEW YORK (CNNMoney.com) -- Education stocks took a hit Monday after the government revealed data on student loan repayment rates that could impose hefty penalties on for-profit colleges and universities or make them ineligible for federal student loans.
Shares of Washington Post Co (WPO, Fortune 500)., which owns Kaplan, plunged nearly 14%. The stock of Corinthian Colleges (COCO) plummeted as much as 27%.
The Department of Education posted loan repayment rates at more than 8,400 schools nationwide late Friday as the agency works to establish stricter regulations that require for-profit schools to better prepare their graduates for the workforce with "gainful employment" or risk the loss of federal student aid.
To measure whether a for-profit program prepares students for gainful employment, the agency would consider the rate at which students repay their loans on time, which would ultimately help protect students from taking on high debt burdens and taxpayers from high default rates.
To be fully eligible for federal loans, the agency's proposed rules require for-profit school programs to have at least 45% of their graduates repaying the principal on their federal student loans. If a program has a loan repayment rate less than 35%, it may no longer receive any funding.
Because the Education Department's Friday's data only provides repayment rates by school instead of by a school's individual programs, it does not paint a clear picture of the impact the proposed rules could have if implemented.
Still, the report worried investors. James Maher, analyst at ThinkEquity, said that it's reasonable to think that if an institution as a whole fared poorly, its individual programs likely did as well.
Repayment rates at several institutions run by Corinthian, for example, were below the key 35% level. The government data for Kaplan showed that institution's repayment rates are about 28%.
The Washington Post Co. said Monday that the government's current definition of repayment is too narrow because it excludes many borrowers, including those whose loans have been consolidated, and also "penalizes schools whose students are participating in the income-based-repayment plans championed by the Obama administration."
The company estimated that Kaplan's repayment rates would be up to 30 percentage points higher if it were not penalized for student participation in government-sponsored debt management programs.
The Department of Education rules are currently in a public comment period, and are expected to be finalized by November 1 and will begin to be implemented in July 2011.
Shares of DeVry (DV), ITT Educational Services (ESI), and Career Education Corp. (CECO), which owns brands including Le Cordon Bleu, also plunged after being found to have low repayment rates.
Meanwhile, shares of Apollo Group (APOL), owner of the University of Phoenix, Bridgepoint Education (BPI), and Grand Canyon Education bucked the downward trend and moved higher thanks to repayment rates near or higher than 45%.
ThinkEquity's Maher said the sector was under additional strain after Education Secretary Arne Duncan's vow last week to ramp up scrutiny at for-profit colleges following an investigation by the Government Accountability Office that uncovered unethical marketing practices.