Wal-Mart earnings rise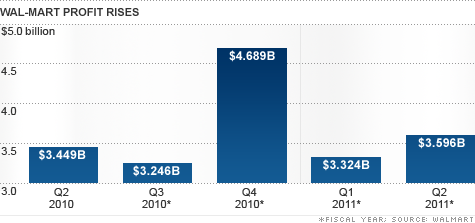 NEW YORK (CNNMoney.com) -- Wal-Mart Stores Inc. reported a slightly better-than-expected second-quarter profit but missed sales estimates Tuesday, as customers of the world's largest retailer continued to curb spending. The company also raised its guidance for the full fiscal year.
Bentonville, Ark.-based Wal-Mart's net income rose 3.4% to $3.6 billion, or 97 cents per share, from a year earlier, thanks to continued cost-cutting initiatives. Analysts surveyed by Thomson Reuters were expecting a profit of 96 cents per share.
Revenue climbed 2.8% to $103 billion, but missed analysts' forecast of $105.3 billion.
Shares of Wal-Mart (WMT, Fortune 500) were up 0.8% in pre-market trading.
Wal-Mart's sales at its stores open at least a year - a key gauge of a retailer's performance known as same-store sales - declined 1.8% in the three months ended July 30. That was the fifth consecutive quarterly decline.
"The slow economic recovery will continue to affect our customers, and we expect they will remain cautious about spending," said Mike Duke, Wal-Mart president and chief executive, during a pre-recorded call with investors.
Bill Simon, who leads Wal-Mart's U.S. operations, added that customers are particularly tight on discretionary expenses as they live paycheck to paycheck. He said government assistance has also continued to increase as a form of payment, particularly in regions suffering from higher unemployment.
While grocery sales improved slightly, sales in the retailer's health and wellness, apparel, household and entertainment divisions declined.
"There's a lot of pressure from the recession that Wal-Mart can't control, so it's been cutting expenses," said David Strasser, analyst at Janney Montgomery. "While that's a good thing, they can only do that for so long to drive earnings."
Despite the challenging quarter overall, stroes in international markets were a bright spot.
"Walmart International continues to be an impressive growth engine," Duke said, adding that the division will continue to be a strong contributor to the company's growth.
Wal-Mart's international operations, which include Mexico, Brazil and China, raked in $25.9 billion in sales during the second quarter, up 11% compared to a year earlier.
For the current quarter, Wal-Mart estimates earnings per share between 87 cents and 91 cents. Analysts currently expect the company to earn 91 cents per share.
The retailer boosted its guidance for the full year ending in January to earnings per share of between $3.95 and $4.05. Wal-Mart has previously issued an earnings guidance of between $3.90 and $4 per share. Analysts expect the company to earn $3.99 during the period.
"Wal-Mart is making some dramatic shifts in its merchandising strategy in the United States and is optimistic about the changes," Strasser said. "But that optimism is not predicated on any real knowledge of whether or not the new strategies will work."
His estimate for Wal-Mart earnings remains near the mid-point of the company's boosted guidance.
Because Wal-Mart averages more than 100 million shoppers in its store each week and generates more than $400 billion in annual sales, analysts look to the mega-retailer's financial performance as a key measure of consumer spending and the overall health of the economy.
Earlier Tuesday, home improvement retailer Home Depot (HD, Fortune 500) posted a better-than-expected second-quarter profit that rose from a year earlier, but its sales missed forecasts. Discount retailer Target (TGT, Fortune 500) reports results Wednesday.